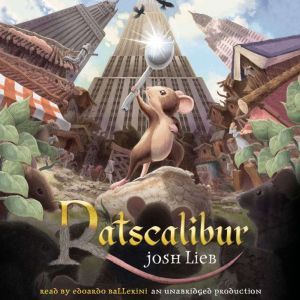 List: $14.00

| Sale: $10.08
Club: $7.00
Ratscalibur
Format: Digital Audiobook Download
---
Synopsis
The New York Times bestselling author of I Am A Genius of Unspeakable Evil and I Want to Be Your Class President reinvents the Excalibur legend—with rats!

When Joey is bitten by an elderly rat, he goes from aspiring seventh-grader to three-inch tall rodent.

At first, Joey is amazed by his new rat self. The city streets call to him at night. Smells that would have repelled him before are suddenly tantalizing. (A chicken bone? Yes! A squashed cockroach? Like perfume!) And wow, the freedom! But when a bout of hunger leads Joey to pull the spork from the scone, he finds himself at the center of a longtime rat prophecy.

Joey has unwittingly unlocked the sword Ratscalibur; and now, it is up to him to protect his new rat friends from the evil crows who seek to destroy their peaceful kingdom. But what does an eleven-year-old know about actual swordplay? And what happens when Joey no longer wants to be a rat?