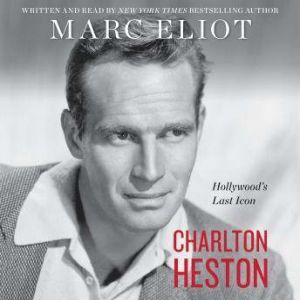 The New York Times bestselling author, Marc Eliot, has presented another iconic biography in his series. Charlton Heston, who lived a larger than life existence, had a major presence in the history of American film, television, stage, and theater. Heston's career lasted more than beyond the second half of the 20th Century, with his films being popular worldwide. Other icons in author Eliot's books include: Cary Grant, Walt Disney, Clint Eastwood, Steve McQueen, Jack Nicholson, and others. Eliot has stated that he received unprecented access to Heston's family, friends, private papers, diaries, journals, and writings. The book describes a tale of someone who lived an extraordinary life.
Like all human beings, Heston had great achievements, but also had personal failures. Sometimes we only see what Hollywood wants us to see in such a cultural great as was Heston. Eliot tells a very complex story of how a small boy from Michigan grew up to become one of Hollywood's most legendary stars. Heston was also one of the Greatest Generation true-life war heroes, having seen action in the Pacific Theater during World War II. After the war, he moved to New York City to try to find success in theater. It was his performance on live television where he was "discovered" by Hollywood. The book explains the unparalleled saga of Heston's three movies for Cecil B. DeMille, and two films for William Wyle which included film greats, The Ten Commandments and Ben Hur. It was Ben Hur for which Heston won his Best-Actor Oscar.
In his later years, Heston became affiliated with political issues, the NRA, and being at one time asked to run for President by both Republican and Democrat parties. The novel covers Heston's amazing life with great detail, that will please longtime fans, Hollywood movie lovers, and the new generation just discovering the work of Charlton Heston for the first time.
Get your digital audio copy today!!