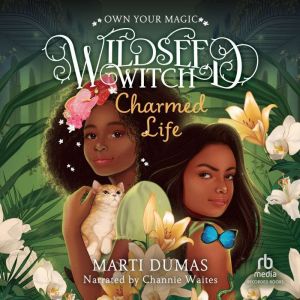 List: $19.99

| Sale: $13.99
Club: $9.99
Charmed Life
Format: Digital Audiobook Download
---
Synopsis
After a summer of feeling out of place at a fancy witch school, Hasani can't wait to get back to the peace and normalcy of Riverbend Middle, where she knows all the rules and is destined to be captain of the Mathletes. There are a few little hiccups to work out—like how she's going to tell her best
friend that she's a witch—but even though the other two members of Hasani's coven have joined her friend group and her school, there's no reason to think that eighth grade won't be smooth sailing … That is, until her former friend (and fellow witch) LaToya shows up.
LaToya is obviously up to something—beyond just turning all of Hasani's friends against her. Strange things begin happening around the school, and Hasani is sure that LaToya is to blame. However, when Miss Lafleur comes to investigate the magic, she isn't convinced that LaToya could have caused all
this chaos on her own—so Hasani sets out to prove it, and heads to the magic market, 3Thirteen, to find the tools she needs to do so.
But with all her focus on proving she's right and learning more about her magic, is Hasani losing sight of the people and things that are most important to her?