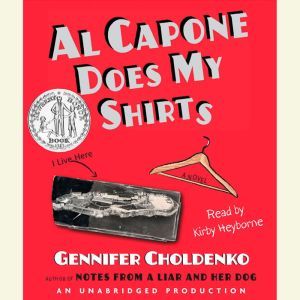 List: $15.00

| Sale: $10.80
Al Capone Does My Shirts
Format: Digital Audiobook Download
---
Synopsis
1935
I want to be on Alcatraz like I want poison oak on my private parts. But apparently nobody cares, because now I'm Moose Flanagan, Alcatraz Island Boy–all so my sister can go to the Esther P. Marinoff School, where kids wear their clothes inside out and there isn't a book in sight. Obedient Moose. I always do what I'm supposed to do.

When Moose's family moves to Alcatraz Island so his father can work as a guard and his sister can attend a special school in San Francisco, he has to leave his friends behind. But it's worth it, right? If his sister, Natalie, can get help, maybe his family will finally be normal.

But on Alcatraz his dad is so busy, he's never around. His mom's preoccupation with Natalie's condition (today, it would be called autism) is even worse now that there's no extended family to help. And of course, there's never enough money.

When Moose meets Piper, the cute daughter of the warden, he knows right off she's trouble. But she's also strangely irresistible. All Moose wants to do is protect Natalie, live up to his parents' expectations and stay out of trouble. But on Alcatraz, trouble is never very far away.