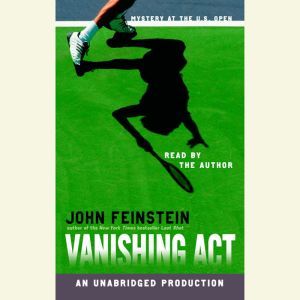 List: $15.00

| Sale: $10.80
Vanishing Act: Mystery at the U.S. Open
Format: Digital Audiobook Download
---
Synopsis
New York City. The U.S. Open.

With 128 athletes competing in dozens of matches for millions in prize money, you expect drama. You expect blistering serves, smashed returns, and sliced shots that kiss the line. You do not expect kidnapping.

But Stevie Thomas and Susan Carol Anderson can't come up with any other explanation. These two aspiring sportswriters were sitting in the press box, amazed at their luck in scoring media credentials to cover the tournament. Like everyone else, they were eagerly awaiting the first-round match of the hot, new Russian phenom–Nadia Symanova. She was young, glamorous, and talented enough to win it all. But she never made it on court. Somehow, on the short walk from the locker rooms to Louis Armstrong Stadium, the most-watched player in tennis simply vanished.

The media frenzy is staggering. Everyone's looking for Nadia. Can two eighth-grade rookies really hope to scoop the pros? Well, they're certainly going to try! And as they chase down the mystery, they'll get a crash course in what a sweet racket the game of tennis can be. . .