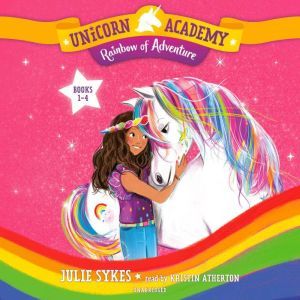 List: $25.00

| Sale: $18.00
Unicorn Academy: Rainbow of Adventure Audio Set (Books 1-4)
Format: Digital Audiobook Download
---
Synopsis
What if your best friend was a unicorn? This giftable boxed set includes books 1-4 of this magical chapter book series, where everyone is paired with their very own unicorn.

At Unicorn Academy, every student gets their own beautiful unicorn! Each unicorn has a special kind of magic. Some can fly, some turn invisible, and some can even create fire! To discover their powers, unicorns must bond with their student. Friendship is the key to the magic of Unicorn Island. Meet four magical best friendships in this collection!

Boxed set includes:
#1: Sophia and Rainbow: Sophia's first lesson at Unicorn Academy will lead her to save the magic of the island!
#2: Scarlett and Blaze: Blaze just might have the magic power that will unfreeze Sparkle Lake!
#3: Ava and Star: The magical berries the unicorns eat are disappearing--can Ava and Star solve the mystery?
#4: Isabel and Cloud: Can this pair learn to trust each other when the school is in danger?

Fans of Rainbow Magic, Purrmaids, and Princess Ponies will love this chapter book series about the magic of bonding with your own unicorn.