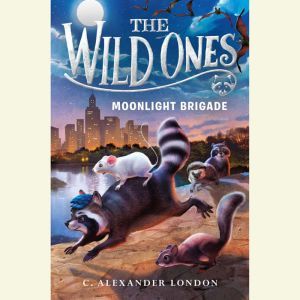 List: $15.00

| Sale: $10.80
Club: $7.50
The Wild Ones: Moonlight Brigade
Format: Digital Audiobook Download
---
Synopsis
The new animal-fantasy/adventure series for fans of Warriors, Spirit Animals, and Redwall!

Kit may have saved the Wild Ones from the Flealess, but he and his neighbors are not out of danger yet. Coyote has taken charge of the Thunder River Rompers, a notorious gang of nearsighted otters, and he has his sights set on Ankle Snap Alley. When, on the eve of the First Frost, Coyote and his henchmen steal all of the seeds and nuts that the Alley's residents have stored up for winter, Kit knows that he can't sit by and do nothing. As he tries to fulfill his school assignments and win himself a coveted invitation into the Moonlight Brigade, Kit knows he must outsmart the Coyote so that his fellow Wild Ones can survive the winter.
 
With so much depending on him, it's time for Kit to pull off his greatest trick yet and save the community he now calls home. Howl to snap!


Praise for The Wild Ones:

"Raccoon hero Kit and his ragtag community of creatures will sneak their way into your imagination and steal your heart. They may pick your pocket, too, but they'll take you on an adventure you won't soon forget. This is a fantasy that kids will adore (and quick-of-paw parents will steal). A wild ride from a wildly imaginative author."--Katherine Applegate, Newbery Medal-winning author of The One and Only Ivan and the bestselling Animorphs series

"Bold deeds, betrayals, and buffoonery kick off this series with gusto."--Kirkus Reviews

"The sharp, lively descriptions ('like dynamite in a silk purse') shine while the exhilarating finale illustrates that home is wherever your 'howl to snap' friends live."--Publishers Weekly 

"Readers will root for Kit as he tangles with scoundrels, liars, and even a hungry crocodile....A promising new series for fans of animal adventure."--School Library Journal


From the Hardcover edition.