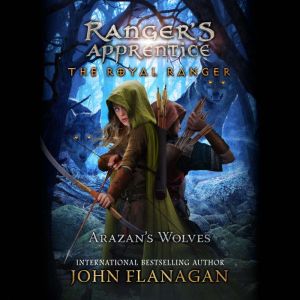 List: $27.50

| Sale: $19.80
The Royal Ranger: Arazan's Wolves
Format: Digital Audiobook Download
---
Synopsis
International bestselling author John Flanagan returns to world of Ranger's Apprentice in the sixth installment of the Royal Ranger series in which Maddie and Will must travel to Celtica to investigate a series of dire wolf attacks and a dangerous sorceress.

When Maddie and Will get a message that dire wolves—huge misshapen changelings, much larger than regular wolves—have been marauding and attacking through the hills and valleys of Celtica, the Rangers are sent on a mission to unravel just who or what is behind these dangerous creatures.

Will isn't anxious to return to Celtica, especially approaching the Rift. And as they travel, Maddie must grapple with their growing dealings with the spiritual and supernatural. But they are Rangers—and they will do whatever it takes to accomplish their mission. After they receive some offers of help from locals, Will and Maddie learn the name of the sorceress behind these strange and dangerous attacks, Arazan, along with the location of her hideout.

On the way to take her down once and for all, the Rangers must face direwolves, wargals, dark magic, and more. And as Arazan's desires lead her to the most evil of powers, Will and Maddie must form a plan of action that can outwit not just the sorceress but the darkest forces from the beyond.