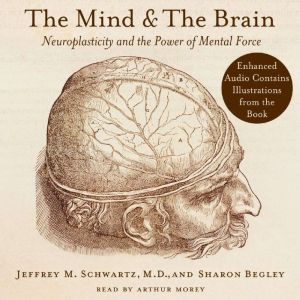 Synopsis
A groundbreaking work of science that confirms, for the first time, the independent existence of the mind–and demonstrates the possibilities for human control over the workings of the brain. Conventional science has long held the position that 'the mind' is merely an illusion, a side effect of electrochemical activity in the physical brain. Now in paperback, Dr Jeffrey Schwartz and Sharon Begley's groundbreaking work, The Mind and the Brain, argues exactly the opposite: that the mind has a life of its own.Dr Schwartz, a leading researcher in brain dysfunctions, and Wall Street Journal science columnist Sharon Begley demonstrate that the human mind is an independent entity that can shape and control the functioning of the physical brain. Their work has its basis in our emerging understanding of adult neuroplasticity–the brain's ability to be rewired not just in childhood, but throughout life, a trait only recently established by neuroscientists. Through decades of work treating patients with obsessive–compulsive disorder (OCD), Schwartz made an extraordinary finding: while following the therapy he developed, his patients were effecting significant and lasting changes in their own neural pathways. It was a scientific first: by actively focusing their attention away from negative behaviors and toward more positive ones, Schwartz's patients were using their minds to reshape their brains–and discovering a thrilling new dimension to the concept of neuroplasticity. The Mind and the Brain follows Schwartz as he investigates this newly discovered power, which he calls self–directed neuroplasticity or, more simply, mental force. It describes his work with noted physicist Henry Stapp and connects the concept of 'mental force' with the ancient practice of mindfulness in Buddhist tradition. And it points to potential new applications that could transform the treatment of almost every variety of neurological dysfunction, from dyslexia to stroke–and could lead to new strategies to help us harness our mental powers. Yet as wondrous as these implications are, perhaps even more important is the philosophical dimension of Schwartz's work. For the existence of mental force offers convincing scientific evidence of human free will, and thus of man's inherent capacity for moral choice.
Healing and the Mind
by
Bill Moyers
In the best-selling companion volume to the PBS series, acclaimed television journalist Bill Moyers explores the fascinating, complex, powerful connection between mind and body in human health. Ancient medical science told us our minds and bodies ar...
Narrator: Bill Moyers
Published: 07/05/2000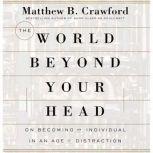 The World Beyond Your Head
by
Matthew B. Crawford
A groundbreaking new book from the bestselling author of Shop Class as SoulcraftIn his bestselling book Shop Class as Soulcraft, Matthew B. Crawford explored the ethical and practical importance of manual competence, as expressed through mastery of ...
Narrator: Robert Fass
Published: 03/31/2015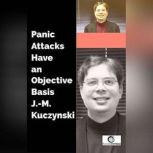 Panic Attacks Have an Objective Basis
by
J.-M. Kuczynski
People have panic attacks when they are in a situation in which they are actually threatened but where they cannot admit as much without having to forfeit an inflated self-concept.
Narrator: J.-M. Kuczynski
Published: 10/26/2017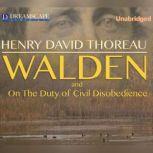 Walden
by
Henry David Thoreau
An experiment. A declaration. A spiritual awakening. Noted transcendentalist Henry David Thoreau spent two years, two months and two days chronicling his near-isolation in a small cabin he built in the woods near Walden Pond, on land owned by his me...
Narrator: Robert Bethune
Published: 02/25/2014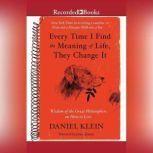 Every Time I Find the Meaning of Life, They Change It
by
Daniel Klein
A humorous and philosophical trip through life, from the New York Times-bestselling coauthor of Plato and a Platypus Walk into a Bar ... Daniel Klein's fans have fallen in love with the warm, humorous, and thoughtful way he shows how philosophy reso...
Narrator: James Jenner
Published: 10/27/2015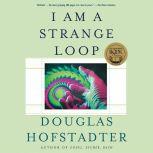 I Am a Strange Loop
by
Douglas R. Hofstadter
One of our greatest philosophers and scientists of the mind asks, where does the self come from--and how our selves can exist in the minds of others. Can thought arise out of matter? Can self, soul, consciousness, "I" arise out of mere matter? If...
Narrator: Greg Baglia
Published: 07/10/2018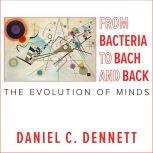 From Bacteria to Bach and Back
by
Daniel C. Dennett
What is human consciousness and how is it possible? This question fascinates thinking people from poets and painters to physicists, psychologists, and philosophers. From Bacteria to Bach and Back is Daniel C. Dennett's brilliant answer, extending pe...
Narrator: Tom Perkins
Published: 02/07/2017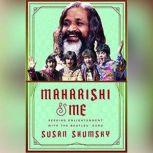 Maharishi & Me
by
Susan Shumsky
Susan Shumsky is a successful author in the New Age/Spirituality field, writing books on meditation, intuition, prayer, auras, chakras, and the like. But in the 1970s, she was one of only a handful of Maharishi Mahesh Yogi's personal attendant...
Narrator: Laural Merlington
Published: 02/06/2018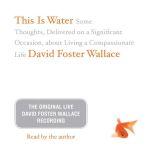 {"id":"173001","ean":"9780062133069","abr":"Unabridged","title":"The Mind and the Brain: Neuroplasticity and the Power of Mental Force","subtitle":"Neuroplasticity and the Power of Mental Force","author":"Jeffrey M. Schwartz","rating_average":"3.92","narrator":"Arthur Morey","ubr_id":"173001","abr_id":"0","ubr_price":"27.99","abr_price":"0.00","ubr_memprice":"16.79","abr_memprice":"0.00","ubr_narrator":"Arthur Morey","abr_narrator":"","ubr_length":"Unabridged: 14 hr 50 min","abr_length":"Abridged: "}