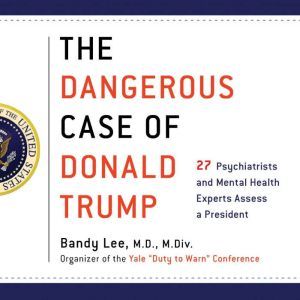 Details
The Dangerous Case of Donald Trump: 27 Psychiatrists and Mental Health Experts Assess a President
Best Seller
Author: Bandy X. Lee, Robert Jay Lifton, Gail Sheehy, William J. Doherty, Noam Chomsky, Judith Lewis Herman, M.D., Philip Zimbardo, Ph.D., Rosemary Sword, Craig Malkin, Ph.D., Tony Schwartz, Lance Dodes, M.D., John D. Gartner, Ph.D., Michael J. Tansey, Ph.D., David M. Reiss, M.D., James A. Herb, M.A., Esq., Leonard L. Glass, M.D., M.P.H., Henry J. Friedman, M.D., James Gilligan, M.D., Diane Jhueck, L.M.H.C., D.M.H.P., Howard H. Covitz, Ph.D., A.B.P.P., Betty P. Teng, M.F.A., L.M.S.W., Jennifer Contarino Panning, Psy.D., Harper West, M.A., L.L.P., Luba Kessler, M.D., Steve Wruble, M.D., Thomas Singer, M.D., Elizabeth Mika, M.A., L.C.P.C., Edwin B. Fisher, Ph.D., Nanette Gartrell, M.D., Dee Mosbacher, M.D., Ph.D.
Narrator: Bandy X. Lee, Luba Kessler, M.D., Betty P. Teng, M.F.A., L.M.S.W., P. J. Ochlan, Alex Hyde-White, Elizabeth Mika, M.A., L.C.P.C., Hillary Huber, Jennifer Contarino Panning, Psy.D., Leonard L. Glass, M.D., M.P.H., Michael J. Tansey, Ph.D., Nanette Gartrell, M.D., Rosemary Sword, Steve Wruble, M.D., Thomas Singer, M.D., William Dufris
Unabridged: 12 hr 6 min
Format: Digital Audiobook
Publisher: Macmillan Audio
Published: 10/03/2017
Synopsis
As this bestseller predicted, Trump has only grown more erratic and dangerous as the pressures on him mount. This new edition includes new essays bringing the audiobook up to date—because this is still not normal. Originally released in fall 2017, The Dangerous Case of Donald Trump was a runaway bestseller. Alarmed Americans and international onlookers wanted to know: What is wrong with him?That question still plagues us. The Trump administration has proven as chaotic and destructive as its opponents feared, and the man at the center of it all remains a cipher.Constrained by the APA's "Goldwater rule," which inhibits mental health professionals from diagnosing public figures they have not personally examined, many of those qualified to weigh in on the issue have shied away from discussing it at all. The public has thus been left to wonder whether he is mad, bad, or both.The prestigious mental health experts who have contributed to the revised and updated version of The Dangerous Case of Donald Trump argue that their moral and civic "duty to warn" supersedes professional neutrality. Whatever affects him, affects the nation: From the trauma people have experienced under the Trump administration to the cult-like characteristics of his followers, he has created unprecedented mental health consequences across our nation and beyond. With eight new essays (about one hundred pages of new material), this edition will cover the dangerous ramifications of Trump's unnatural state.It's not all in our heads. It's in his.This program is read by Alex Hyde-White, William Dufris, Hillary Huber, Rosa Maria Bramble, Nanette Gartrell, Leonard L. Glass, Prudence Gourguechon, Luba Kessler, Bandy X. Lee, James R. Merikangas, Elizabeth Mika, P. J. Ochlan, Richard Painter, Jennifer Contarino Panning, Thomas Singer, Steven Soldz, Rosemary Sword, Michael J. Tansey, Betty P. Teng, Lise Van Susteren, Kevin Washington, and Steve Wruble.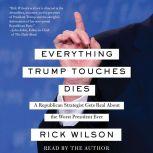 Everything Trump Touches Dies
by
Rick Wilson
A respected, long-time Republican strategist, ad-maker and contributor for The Daily Beast, skewers the disease that is destroying the conservative movement and burning down the GOP: Trumpism.In Everything Trump Touches Dies, political campaign stra...
Narrator: Rick Wilson
Published: 08/07/2018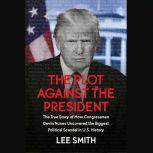 The Plot Against the President
by
Lee Smith
Investigative journalist Lee Smith uses his unprecedented access to Congressman Devin Nunes, former head of the House Intelligence Committee, to expose the deep state operation against the president--and the American people. Investigative journalis...
Narrator: Addison C. Reynolds
Published: 10/29/2019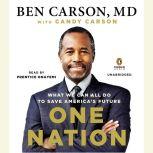 One Nation
by
Ben Carson, MD
Dear Reader, In February 2013 I gave a speech at the National Prayer Breakfast. Standing a few feet from President Obama, I warned my fellow citizens of the dangers facing our country and called for a return to the prin...
Narrator: Prentice Onayemi
Published: 05/20/2014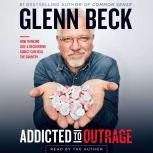 Addicted to Outrage
by
Glenn Beck
Glenn Beck—author of thirteen #1 New York Times bestsellers—issues a startling challenge to people on both sides of the aisle to give up our addiction to outrage.America is addicted to outrage, we're at the height of a twenty-year ...
Narrator: Glenn Beck
Published: 09/18/2018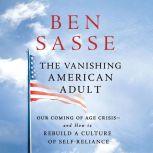 The Vanishing American Adult
by
Ben Sasse
"Former college president and now U.S. Senator Ben Sasse reads with the clarity and confidence of a voice pro in this friendly warning aimed at America's parents, teachers, and governing officials." — AudioFile MagazineAN INSTANT NEW YORK TIME...
Narrator: Ben Sasse
Published: 05/16/2017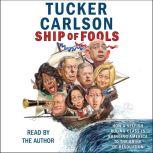 Ship of Fools
by
Tucker Carlson
The popular FOX News star of Tucker Carlson Tonight offers his signature fearless and funny political commentary on how America's ruling class has failed everyday Americans."You look on in horror, helpless and desperate. You have nowher...
Narrator: Tucker Carlson
Published: 10/02/2018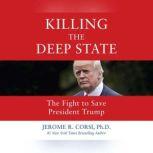 Killing the Deep State
by
Jerome R. Corsi, PhD
At 2:45 AM on Nov. 8, 2016, television networks announced to a stunned nation that Pennsylvania had gone for Donald Trump, making him the president-elect of the United States, defying all odds in a surreal victory that sent the Deep State-well-funde...
Narrator: Dan Crue
Published: 03/13/2018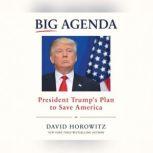 Big Agenda
by
David Horowitz
One battle is over, but there are many more to come. This book is an indispensable guide to fighting the opponents of the conservative restoration. It identifies who the adversaries are as well as their methods, motivations, and agenda, including th...
Narrator: Ian Patterson
Published: 01/17/2017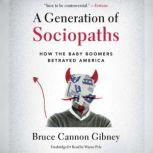 A Generation of Sociopaths
by
Bruce Cannon Gibney
In his "remarkable" (Men's Journal) and "controversial" (Fortune) book -- written in a "wry, amusing style" (The Guardian) -- Bruce Cannon Gibney shows how America was hijacked by the Boomers, a generation whose reckless self-indulgence degraded th...
Narrator: Wayne Pyle
Published: 03/07/2017

{"id":"1914532","ean":"9781427295248","abr":"Unabridged","title":"The Dangerous Case of Donald Trump: 27 Psychiatrists and Mental Health Experts Assess a President","subtitle":"27 Psychiatrists and Mental Health Experts Assess a President","author":"Bandy X. Lee","rating_average":"4.3","narrator":"Bandy X. Lee","ubr_id":"1914532","abr_id":"0","ubr_price":"26.99","abr_price":"0.00","ubr_memprice":"16.19","abr_memprice":"0.00","ubr_narrator":"Bandy X. Lee","abr_narrator":"","ubr_length":"Unabridged: 12 hr 6 min","abr_length":"Abridged: "}