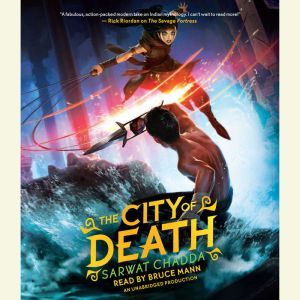 List: $25.00

| Sale: $18.00
Club: $12.50
The City of Death
Format: Digital Audiobook Download
---
Synopsis
Ash escaped THE SAVAGE FORTRESS . . . but can he survive THE CITY OF DEATH?

Meet Ash Mistry: eighth grader, pretty good video gamer, guy with a massive crush on the beautiful Gemma . . .

Oh, and the Eternal Warrior of the death goddess Kali.

Just when Ash has settled back into his everyday London life, his friend Parvati arrives with a mission: The evil Lord Alexander Savage is plotting to steal the Koh-I-Noor diamond from England's crown jewels. Ash and Parvati manage to intercept it, but at a terrible price--Gemma's death.

Outcast and heartbroken, Ash returns with Parvati to India, where he meets up with old friends and develops new powers. But he's haunted by Gemma, by thoughts of revenge against Savage, and by horrifying, blood-soaked dreams. As he hunts Savage all the way to an astonishing, long-hidden kingdom, Ash must face the prospect that he may no longer be entirely human . . . and his warrior side may lie beyond his control.