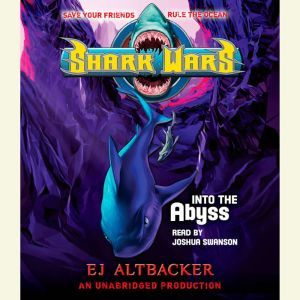 List: $15.00

| Sale: $10.80
Shark Wars 3: Into the Abyss
Format: Digital Audiobook Download
---
Synopsis
GET READY FOR AN EPIC UNDERWATER SHOWDOWN!
 
Gray and his alliance of peaceful shivers—Riptide, Coral, and AuzyAuzy—have beaten the bloodthirsty emperor Finnivus and his vicious Indi Shiver armada to smithereens, sending them swimming as fast as they can retreat. But there's no time to party. Finnivus may have been humiliated, but he's still out for revenge. This is the ruler who feasts on the heads of every shark he conquers, after all.
When the emperor's gangs of soldier fish strike, Gray and his friends endure a tragic loss. This time, there's no one left to tell Gray what to do. He's got to lead the rebels into battle to vanquish Finnivus and his evil forces or else the ocean will turn red with blood.  The fate of the entire Big Blue depends on Gray!