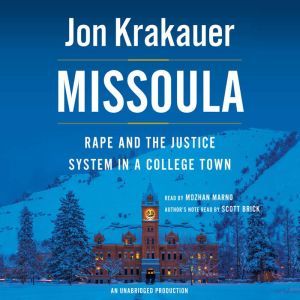 Synopsis
From bestselling author Jon Krakauer, a stark, powerful, meticulously reported narrative about a series of sexual assaults at the University of Montana ­— stories that illuminate the human drama behind the national plague of campus rape
 
Missoula, Montana, is a typical college town, with a highly regarded state university, bucolic surroundings, a lively social scene, and an excellent football team — the Grizzlies — with a rabid fan base.
 
The Department of Justice investigated 350 sexual assaults reported to the Missoula police between January 2008 and May 2012. Few of these assaults were properly handled by either the university or local authorities. In this, Missoula is also typical.
 
A DOJ report released in December of 2014 estimates 110,000 women between the ages of eighteen and twenty-four are raped each year. Krakauer's devastating narrative of what happened in Missoula makes clear why rape is so prevalent on American campuses, and why rape victims are so reluctant to report assault.
 
Acquaintance rape is a crime like no other. Unlike burglary or embezzlement or any other felony, the victim often comes under more suspicion than the alleged perpetrator. This is especially true if the victim is sexually active; if she had been drinking prior to the assault — and if the man she accuses plays on a popular sports team. The vanishingly small but highly publicized incidents of false accusations are often used to dismiss her claims in the press. If the case goes to trial, the woman's entire personal life becomes fair game for defense attorneys.
 
This brutal reality goes a long way towards explaining why acquaintance rape is the most underreported crime in America. In addition to physical trauma, its victims often suffer devastating psychological damage that leads to feelings of shame, emotional paralysis and stigmatization. PTSD rates for rape victims are estimated to be 50%, higher than soldiers returning from war.
 
In Missoula, Krakauer chronicles the searing experiences of several women in Missoula — the nights when they were raped; their fear and self-doubt in the aftermath; the way they were treated by the police, prosecutors, defense attorneys; the public vilification and private anguish; their bravery in pushing forward and what it cost them.
 
Some of them went to the police. Some declined to go to the police, or to press charges, but sought redress from the university, which has its own, non-criminal judicial process when a student is accused of rape. In two cases the police agreed to press charges and the district attorney agreed to prosecute. One case led to a conviction; one to an acquittal. Those women courageous enough to press charges or to speak publicly about their experiences were attacked in the media, on Grizzly football fan sites, and/or to their faces. The university expelled three of the accused rapists, but one was reinstated by state officials in a secret proceeding. One district attorney testified for an alleged rapist at his university hearing. She later left the prosecutor's office and successfully defended the Grizzlies' star quarterback in his rape trial. The horror of being raped, in each woman's case, was magnified by the mechanics of the justice system and the reaction of the community.
 
Krakauer's dispassionate, carefully documented account of what these women endured cuts through the abstract ideological debate about campus rape. College-age women are not raped because they are promiscuous, or drunk, or send mixed signals, or feel guilty about casual sex, or seek attention. They are the victims of a terrible crime and deserving of compassion from society and fairness from a justice system that is clearly broken.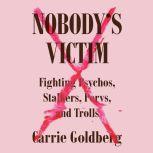 Nobody's Victim
by
Carrie Goldberg
Nobody's Victim is an unflinching look at a hidden world most people don't know exists—one of stalking, blackmail, and sexual violence, online and off—and the incredible story of how one lawyer, determined to fight back, turne...
Narrator: Carrie Goldberg
Published: 08/13/2019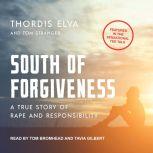 South of Forgiveness
by
Thordis Elva
One ordinary spring morning in Reykjavik, Iceland, Thordis Elva kisses her son and partner goodbye before boarding a plane to do a remarkable thing: fly seven thousand miles to South Africa to confront the man who raped her when she was just sixteen...
Narrator: Tom Bromhead
Published: 08/08/2017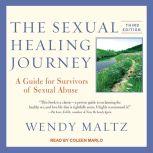 The Sexual Healing Journey
by
Wendy Maltz
Originally published in 1991, The Sexual Healing Journey is a highly respected resource for understanding and healing the intimate sexual problems caused by sex abuse. In this third edition, renowned author, psychotherapist, and certified sex therap...
Narrator: Coleen Marlo
Published: 04/24/2018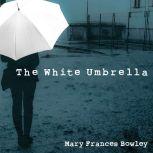 The White Umbrella
by
Mary Frances Bowley
Sex trafficking. We hear about it on the nightly news and in special interest stories from around the world, but it occurs daily in communities all around us. Every year, thousands of young women are forced into sexual exploitation. Most are under t...
Narrator: Tavia Gilbert
Published: 12/06/2016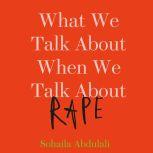 What We Talk About When We Talk About Rape
by
Sohaila Abdulali
In the tradition of Rebecca Solnit, a beautifully written, deeply intelligent, searingly honest—and ultimately hopeful—examination of sexual assault and the global discourse on rape told through the perspective of a survivor, writer, cou...
Narrator: Sohaila Abdulali
Published: 11/27/2018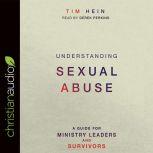 Understanding Sexual Abuse
by
Tim Hein
It is said that the true test of a society is how it treats its most vulnerable members. As many as one in four girls and one in six boys experience sexual abuse during childhood, and it s estimated that as many as half of the incidents are never re...
Narrator: Derek Perkins
Published: 02/27/2018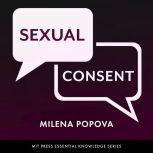 Sexual Consent
by
Milena Popova
An introduction to issues of sexual consent, covering key strands of feminist thought, how sexual consent is negotiated in practice, the influence of popular culture, and more. The #MeToo movement has focused public attention on the issue of sexual...
Narrator: Amy Melissa Bentley
Published: 05/07/2019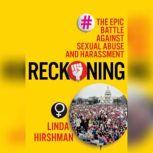 Reckoning
by
Linda Hirshman
The first history-incisive, witty, fascinating-of the fight against sexual harassment, from the author of the New York Times bestseller Sisters in Law Linda Hirshman, acclaimed historian of social movements, delivers the sweeping story of the strug...
Narrator: Carrington MacDuffie
Published: 06/11/2019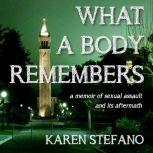 What A Body Remembers
by
Karen Stefano
What a Body Remembers is the intimate memoir of a woman's traumatic past catching up with her, an honest, from-the-gut account of one woman's journey to regain her power and confidence—a journey that continues to this day.
Narrator: Nicole Poole
Published: 06/11/2019

{"id":"916355","ean":"9780147519337","abr":"Unabridged","title":"Missoula: Rape and the Justice System in a College Town","subtitle":"Rape and the Justice System in a College Town","author":"Jon Krakauer","rating_average":"4.26","narrator":"Mozhan Marno","ubr_id":"916355","abr_id":"0","ubr_price":"22.50","abr_price":"0.00","ubr_memprice":"14.62","abr_memprice":"0.00","ubr_narrator":"Mozhan Marno","abr_narrator":"","ubr_length":"Unabridged: 11 hr 50 min","abr_length":"Abridged: "}