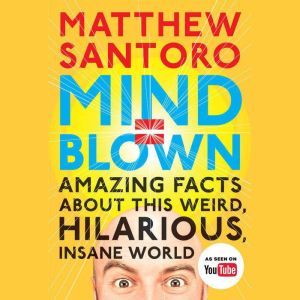 List: $10.00

| Sale: $7.20
Club: $5.00
Mind = Blown
Amazing Facts About This Weird, Hilarious, Insane World
Format: Digital Audiobook Download
---
Synopsis
YouTube sensation Matthew Santoro amazes with eye-opening facts that are sure to blow your mind.

Matthew Santoro's originality and humor has attracted millions of fans, making him a beloved YouTube star. His weekly videos on amazing and little-known facts are eagerly anticipated by his many subscribers and followers around the world. In his first-ever book, Matthew's love of weird and wacky knowledge explodes with new facts and stories from around the planet, and beyond. Surprising, and always entertaining, Mind = Blown offers even more of Matthew's unique take on this hilarious, crazy world:  

The most ridiculous laws from past and present
Crazy doppelgangers of people, places, and unexpected things
Historical wizards who actually lived
Real-life animal avengers
And a special section: Japan Blows My Mind!

From shin-kicking competitions and beer pong-playing robots, to enormous fire-balls shooting through space, you won't believe what you'll discover in Mind = Blown. But beware: there is too much astounding trivia for any one mind to contain!