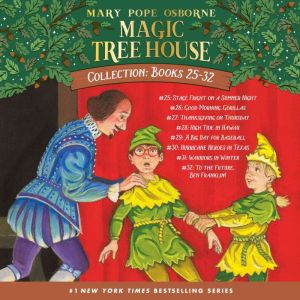 List: $25.00

| Sale: $18.00
Magic Tree House Collection: Books 25-32


Stage Fright on a Summer Night; Good Morning, Gorillas; Thanksgiving on Thursday ; and more

Format: Digital Audiobook Download
---
Synopsis
Enjoy this collection of eight Magic Tree House audiobooks!

#25: Stage Fright on a Summer Night
The show must go on! That's what Jack and Annie learn when the Magic Tree House whisks them back to Elizabethan England. There they meet William Shakespeare himself—one of the greatest writers of all time! But Mr. Shakespeare's having a hard time with some of the actors in his latest show. Are Jack and Annie ready to make a big entrance? Or will it be curtains for Shakespeare?

#26: Good Morning, Gorillas
Gentle giants or giant monsters? That's the question Jack and Annie have about gorillas when the Magic Tree House sweeps them to the mountains of Africa. There they meet a group of amazing and sometimes frightening mountain gorillas. Annie knows how to play with the creatures right away. But Jack is left out. Will the gorillas be able to teach him some special magic?

#27: Thanksgiving on Thursday
It's a time for giving thanks when the Magic Tree House whisks Jack and Annie back to 1621 on the first Thanksgiving Day. The Pilgrims ask them to help get things ready. But whether it's cooking or clamming, Jack and Annie don't know how to do anything the Pilgrim way. Will they ruin the holiday forever? Or will the feast go on?

#28: High Tide in Hawaii
Catch the wave! That's what Jack and Annie do when the Magic Tree House whisks them back to a Hawaiian island of long ago. They learn how to surf and have a great time—until strange things start happening. Jack and Annie soon discover the cause: A tidal wave is headed their way! Can they help save their new friends in time?

#29: A Big Day for Baseball
PLAY BALL! Jack and Annie aren't great baseball players . . . yet! Then Morgan the librarian gives them magical baseball caps that will make them experts. They just need to wear the caps to a special ballgame in Brooklyn, New York. The magic tree house whisks them back to 1947! When they arrive, Jack and Annie find out that they will be batboys in the game—not ballplayers. What exactly does Morgan want them to learn? And what's so special about this game? They only have nine innings to find out!

#30: Hurricane Heroes in Texas
Jack and Annie are on a mission! When the magic tree house whisks them back to Galveston, Texas, in 1900, they find out that a big storm is coming. But even though there is rain and wind, no one believes there is any danger. As the storm grows, seawater floods the city. Now everyone needs help! Jack and Annie have a little bit of magic and a lot of hope—but will it be enough?

#31: Warriors in Winter
We are warriors! Jack and Annie have met knights, pirates, ninjas, and Vikings, but they have never met the most fearsome warriors of all: Roman soldiers. When the magic tree house whisks them back to the early 100s AD, Jack and Annie find themselves in a Roman camp. Their mission: Be like a warrior. That is easier said than done! The Roman soldiers are much scarier in person—and suspicious of strangers. Then a mysterious man riding a black horse gives Jack and Annie some advice to help them on their mission. But the man may not be who he seems. Will Jack and Annie be good warriors? Can they learn what makes the Roman soldiers so great? And who is the mysterious rider . . . ?

#32: To the Future, Ben Franklin!
Jack and Annie know all about Ben Franklin. He was a Founding Father, a journalist, and a famous inventor! When the magic tree house whisks them back to meet the man himself, they're not sure what their mission is. But Ben Franklin has a mission of his own. Intrigued by Jack and Annie, he's curious to learn more about where they came from. And very curious about their tree house. . . .