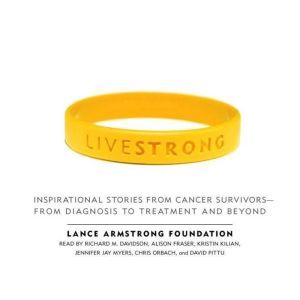 List: $9.98

| Sale: $7.19
Live Strong


Inspirational Stories from Cancer Survivors-from Diagnosis to Treatment and Beyond

Format: Digital Audiobook Download
---
Synopsis
Survivors from all walks of life talk about what "living strong" in the face of cancer means to them.

Since the now ubiquitous LIVESTRONG™ wristbands became available in May 2004, the Lance Armstrong Foundation has raised more than $50 million for cancer survivorship programs, and the signature phrase has become a battle cry for those who fight the disease every day.

Now, the Lance Armstrong Foundation has compiled, from hours of videotaped interviews, poignant and dramatic personal accounts from cancer survivors. Covering a wide range of subjects, from grief to spousal relationships, employment discrimination to coping with medical bills, infertility to fear of recurrence, survivors share their experiences and speak candidly about how cancer has impacted their lives. For twenty-four-year-old Amy it's how her illness changed her relationship with her parents. Mike, a male survivor of breast cancer, talks about gender stereotypes and genetic testing. And Eric, the father of a five-year-old survivor of a brain tumor, recalls how friends and strangers helped his family with financial issues and how the experience brought him and his wife closer together.

While heartbreaking at times, these powerfully honest stories are ultimately uplifting and extremely reassuring to patients and their families. They offer the wisdom and hope that only survivors can give. LiveStrong is a remarkable testament to the resilience of the human spirit.

From the introduction by Lance Armstrong:


My work with the LAF shows me daily that sharing our stories and learning from one another's experiences helps us cancer survivors continue to survive. Some people think the cancer experience is only about the diagnosis and treatment of cancer, as if after the disease goes into remission, it no longer exists. But survivorship goes beyond remission. Survivorship is an evolution.