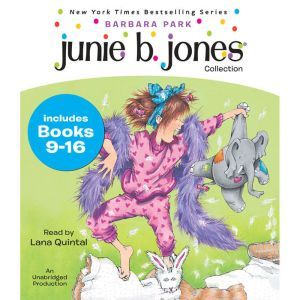 List: $24.00

| Sale: $17.28
Club: $12.00
Junie B. Jones Collection: Books 9-16
Not a Crook; Party Animal; Beauty Shop Guy; Smells Something Fishy; (Almost) a Flower Girl; Mushy Gushy Valentine; Peep in Her Pocket; Captain Field Day
Format: Digital Audiobook Download
---
Synopsis
JUNIE B. JONES IS NOT A CROOK, #9:
A terrible thing happens when someone takes Junie B.'s new black furry mittens! And they keep them! So when Junie B. finds a wonderful pen on the floor, she should be allowed to keep it, too. Right? That's fair. Right? Right?

JUNE B. JONES IS A PARTY ANIMAL, #10:
Lucille is having a sleepover party--at her richie nanna's big giant house!

JUNIE B. JONES IS A BEAUTY SHOP GUY, #11:
What's the bestest job ever? A beauty shop guy, that's what!

JUNIE B. JONES SMELLS SOMETHING FISHY, #12:
There's going to be a pet day at school, only guess what? No dogs allowed! And that's the only kind of pet Junie B. has! If Mother and Daddy won't buy her a new pet, Junie B. will just have to find one on her own.

JUNIE B. JONES IS ALMOST A FLOWER GIRL, #13:
When Junie B. isn't picked as a flower girl in her Aunt Flo's wedding, she can still find some way to get some attention!

JUNIE B. JONES AND THE MUSHY GUSHY VALENTINE, #14:
It's a mushy gushy mystery when Junie B. Jones gets a big, mushy card from a secret admirer!

JUNIE B. JONES HAS A PEEP IN HER POCKET, #15:
It's almost the end of the school year, and Room Nine is taking a field trip to a farm!

JUNIE B. JONES IS CAPTAIN FIELD DAY, #16:
Afternoon kindergarten is having a field day, and Junie B. Jones is team captain!