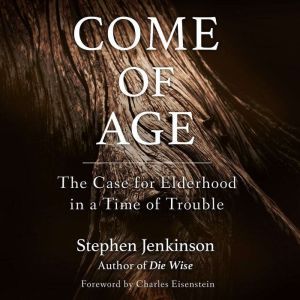 List: $44.95

| Sale: $32.37
Come of Age


The Case for Elderhood in a Time of Trouble

Format: Digital Audiobook Download
---
Synopsis
In his landmark provocative style, Stephen Jenkinson makes the case that we must birth a new generation of elders, one poised and willing to be true stewards of the planet and its species.

Come of Age does not offer tips on how to be a better senior citizen or how to be kinder to our elders. Rather, with lyrical prose and incisive insight, Stephen Jenkinson explores the great paradox of elderhood in North America: how we are awash in the aged and yet somehow lacking in wisdom; how we relegate senior citizens to the corner of the house while simultaneously heralding them as sage elders simply by virtue of their age. Our own unreconciled relationship with what it means to be an elder has yielded a culture nearly bereft of them. Meanwhile, the planet boils, and the younger generation boils with anger over being left an environment and sociopolitical landscape deeply scarred and broken.
 
Taking on the sacred cow of the family, Jenkinson argues that elderhood is a function rather than an identity—it is not a position earned simply by the number of years on the planet or the title "parent" or "grandparent." As with his seminal book Die Wise, Jenkinson interweaves rich personal stories with iconoclastic observations that will leave readers radically rethinking their concept of what it takes to be an elder and the risks of doing otherwise. Part critique, part call to action, Come of Age is a love song inviting us—imploring us—to elderhood in this time of trouble. That time is now. We're an hour before dawn, and first light will show the carnage, or the courage, we bequeath to the generations to come.