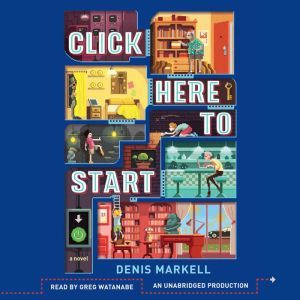 List: $23.00

| Sale: $16.55
Club: $11.50
Click Here to Start (A Novel)
Format: Digital Audiobook Download
---
Synopsis
Young fans of Ernie Cline's Ready Player One will love this classic video game inspired mystery filled with elements of Escape from Mr. Lemoncello's Library and From the Mixed Up Files of Mrs. Basil E. Frankweiler. 

What if playing video games was prepping you to solve an incredible real-world puzzle and locate a priceless treasure?

Twelve-year-old Ted Gerson has spent most of his summer playing video games. So when his great-uncle dies and bequeaths him the all so-called treasure in his overstuffed junk shop of an apartment, Ted explores it like it's another level to beat. And to his shock, he finds that eccentric Great-Uncle Ted actually has set the place up like a real-life escape-the-room game!

Using his specially honed skills, Ted sets off to win the greatest game he's ever played, with help from his friends Caleb and Isabel. Together they discover that Uncle Ted's "treasure" might be exactly that—real gold and jewels found by a Japanese American unit that served in World War II. With each puzzle Ted and his friends solve, they get closer to unraveling the mystery—but someone dangerous is hot on their heels, and he's not about to let them get away with the fortune.

Praise for Click Here to Start:

"As addictive as your favorite video game. I couldn't put it down."-Adam Gidwitz, New York Times bestselling author of A Tale Dark and Grimm

"Humor, believable characters, and adventure...keeps readers in suspense to the end. A winner for mystery enthusiasts."-Kirkus Reviews

"In this clever debut, Markell takes readers on a clue-filled adventure...[and] maintains an energetic, entertaining balance of character-driven narrative and tricky challenges."-Publishers Weekly

"Markell's highly entertaining debut novel...is a well-paced read with fully realized and likable characters,...[and] should have strong appeal to gamers, fans of video game-based stories, and reluctant readers."-SLJ

"This book will appeal to a wide audience. Readers who enjoyed Schreiber's Game Over, Pete Watson will enjoy the video game component; fans of Fitzgerald's Under the Egg will enjoy reading more about the Monuments Men; detective story aficionados will revel in the inclusion of The Maltese Falcon story. This is a great book to hand to just about any middle grade reader."-YA Books Central
 
A School Library Guild selection
 
An Amazon Best Books of the Month Selection




From the Hardcover edition.