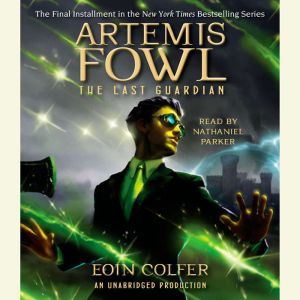 List: $20.00

| Sale: $14.40
Artemis Fowl 8: The Last Guardian
Format: Digital Audiobook Download
---
Synopsis
Is this Artemis fowl's Last stand?
Artemis Fowl's archenemy Opal Koboi has masterminded a way to simultaneously secure her release from prison and bring the human and fairy worlds to their knees. And, unless Artemis can stop her, the evil pixie's next move will destroy all human life on earth.
            Ground zero is the Fowl Estate, where Opal has reanimated fairy warriors who were buried there thousands of years ago. Their spirits have possessed any vessels they can find—corpses, Artemis's little brothers, assorted wildlife—and they are bound to obey Opal's every command. Defeating the motley troops and their diabolical leader will require all of Artemis's cleverness—as well as Butler's bravery, Holly's skill, and Foaly's gadgetry. But if their best efforts aren't enough, Armageddon will surely follow.
            New York Times best-selling author and comic genius Eoin Colfer will leave Artemis Fowl fans gasping up to the very end of this thrilling finale to the blockbuster series.