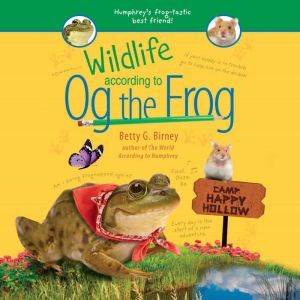 List: $15.00

| Sale: $10.80
Club: $7.50
Wildlife According to Og the Frog
Format: Digital Audiobook Download
---
Synopsis
In the third book in the spinoff of the Humphrey series, Og and Humphrey head to summer camp to see what's hopping in the wilderness!

Og didn't know where he would end up when school was over, but it turns out Camp Happy Hollow is just about the best place ever. Lovely nature is all around, friends from Room 26 are there--including Humphrey!--and camp days are full of exciting activities.

Og has lots of new responsibilities, like watching out for Humphrey, helping his fellow campers adjust to being away from home, and encouraging everyone to always try their best. But when one camper lets Og loose at the lake, he is in a tough spot. The lake sure does feel like home, but so does his tank. Plus his human friends need him--and so does Humphrey. Good thing Og has experience in the wild because--BING-BANG-BOING!--this is going to be one hopping summer!

Og's frog's-eye view of summer camp is silly, caring, and adventurous--the perfect companion to Summer According to Humphrey.