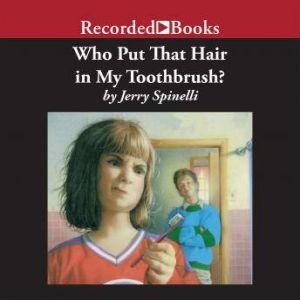 List: $19.99

| Sale: $13.99
Who Put That Hair in My Toothbrush?
Format: Digital Audiobook Download
---
Synopsis
Megin is 12; her brother Greg is 14. Megin is a slob; Greg is fastidious. They call each other Megamouth and Grosso. Between the two, the household is filled with their teasing and fighting. They are experts at the usual games of sibling rivalry and experts at inventing new ones. From carefully-planted cockroaches to creme doughnut fights, Megin and Greg's antics keep them in constant trouble. But even as they think up new ways to bug each other, they are also growing up. Soon, their rivalry will put them both to tests that have higher stakes than either Megin or Greg can imagine. Jerry Spinelli, a Newbery Medalist, has raised six children, so he has plenty of firsthand information about kids like Megin and Greg. This energetic audiobook is a riotous trip through the early teenage years, especially with its dual narration by two of the most spirited readers of children's literature.