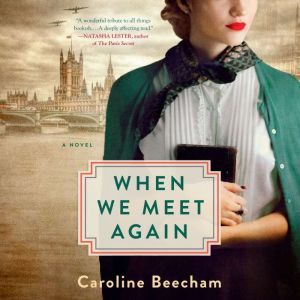 List: $20.00

| Sale: $14.40
When We Meet Again
Format: Digital Audiobook Download
---
Synopsis
An emotionally compelling tale of love and mystery set in the publishing world of World War II London, When We Meet Again tells the story of a mother searching for her stolen child, and illustrates the unbreakable bonds among families, lovers, and readers under the shadow of war.

London, 1943: War and dwindling resources have taken their toll on the book publishing industry, but Alice Cotton, a young editor at Partridge Press, has seen her star begin to rise. She has a knack for creating new books to distract readers from the grim realities of the war. And the demand for books is greater than ever, both on the battlefield and on the home front. But just as her hard work seems poised to pay off, Alice unexpectedly falls pregnant.

Facing the stigma of being an unwed mother, Alice flees to a small town to give birth to her child, Eadie, whom her family has promised to help raise. Instead, her mother sells the newborn to "baby farmers" who plan to give the child up for a private adoption. Alice begins her desperate hunt to find the daughter she never planned for but suddenly deeply loves.

Alice's story intertwines with that of Theo Bloom, an American editor tasked with helping Partridge Press overcome the publishing obstacles of the war. Theo and Alice are quickly drawn to each other during their darkest hours, bound by hope, love, secrets, and the belief that books have the power to change lives.