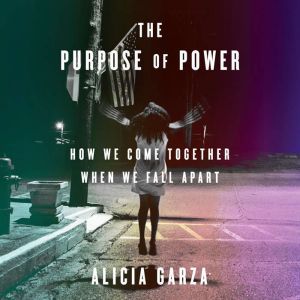 List: $20.00

| Sale: $14.40
The Purpose of Power


How to Build Movements for the 21st Century

Format: Digital Audiobook Download
---
Synopsis
The essential guide to organizing the social movements that will transform our communities in the twenty-first century, from one of the founders of Black Lives Matter

In 2014, Alicia Garza penned a letter via Facebook. It was a love letter of just five short sentences, written in response to the acquittal of George Zimmerman, for the murder of Trayvon Martin, Garza wrote:

Black people. I love you. I love us. Our lives matter. Black lives matter.

It was a moment that created a movement--a call to action, an invitation, a declaration. Coupled with the speed and networking capacities of social media, #blacklivesmatter was the hashtag heard round the world. Why? Because it captured the hearts and minds of millions. A deceptively simple, lovingly complex statement that spoke to the tension between the promise of America and her current realities, calling out precisely where America has fallen short: black lives mattering. And that tension, verbalized--viralized--is this generation of protestors' mobilizing call.

And mobilize they did. Today, Black Lives Matter has over forty chapters in four countries. In 2015 alone, BLM helped pass fifty new laws in twenty-six states across America concerning criminal justice reform. But hashtags don't make movements, people do. Black organizing has always offered important lessons for how to rise and resist, from the underground railroad, to the civil rights era, to today.

This is the story behind the most successful social movement of our generation, told by one of the founders and central members. Drawing from a twenty-four-year legacy of organizing, Garza shares her lessons and experiences, heartbreaks and successes--the sole authority of her activism.

This book is for everyone who is curious or skeptical about Black Lives Matter, either as an idea or as a social movement; for folks who are dismayed by the state of this country and looking for a way forward; and for people who believe in a world that values us all.

Most of all, this is a book for the person who wants to know what history can tell us about what is possible for our collective future.