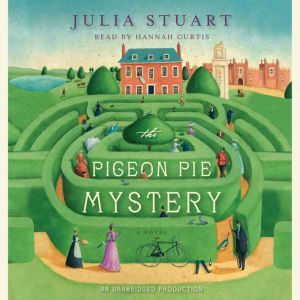 List: $20.00

| Sale: $14.40
The Pigeon Pie Mystery
Format: Digital Audiobook Download
---
Synopsis
Julia Stuart returns in her follow-up to the bestselling The Tower, the Zoo and the Tortoise with this clever murder mystery set in Victorian England, brimming with her signature charm and fabulous characters.

When Indian Princess Alexandrina is left penniless by the sudden death of her father, the Maharaja of Brindor, Queen Victoria grants her a grace-and-favor home in Hampton Court Palace. Though rumored to be haunted, Alexandrina and her lady's maid, Pooki, have no choice but to take the Queen up on her offer.
     Aside from the ghost sightings, Hampton Court doesn't seem so bad. The princess is soon befriended by three eccentric widows who invite her to a picnic with all the palace's inhabitants, for which Pooki bakes a pigeon pie. But when General-Major Bagshot dies after eating said pie, and the coroner finds traces of arsenic in his body, Pooki becomes the #1 suspect in a murder investigation.
     Princess Alexandrina isn't about to let her faithful servant hang. She begins an investigation of her own, and discovers that Hampton Court isn't such a safe place to live after all.
     With her trademark wit and charm, Julia Stuart introduces us to an outstanding cast of lovable oddballs, from the palace maze-keeper to the unconventional Lady Beatrice (who likes to dress up as a toucan—don't ask), as she guides us through the many delightful twists and turns in this fun and quirky murder mystery. Everyone is hiding a secret of the heart, and even Alexandrina may not realize when she's caught in a maze of love.