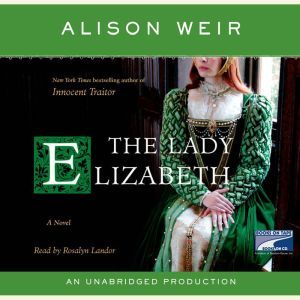 List: $27.50

| Sale: $19.80
The Lady Elizabeth
Format: Digital Audiobook Download
---
Synopsis
Following the tremendous success of her first novel, Innocent Traitor, acclaimed historian and New York Times bestselling author Alison Weir turns her masterly storytelling skills to the early life of young Elizabeth Tudor, who would grow up to become England's most intriguing and powerful queen.

Before she is three, Elizabeth learns of the tragic fate that has befallen her mother, the enigmatic and seductive Anne Boleyn, and that she herself has been declared illegitimate, an injustice that will haunt her all her life. What comes next is a succession of stepmothers, bringing with them glimpses of love, fleeting security, tempestuous conflict, and tragedy. The death of her father puts the teenage Elizabeth in greater peril, leaving her at the mercy of ambitious and unscrupulous men. Like her mother two decades earlier, she is imprisoned in the Tower of London–and fears she will also meet her mother's grisly end. Power-driven politics, private scandal and public gossip, a disputed succession, and the grievous example of her sister, "Bloody" Queen Mary, all cement Elizabeth's resolve in matters of statecraft and love, and set the stage for her transformation into the iconic Virgin Queen.

Sweeping in scope, The Lady Elizabeth is a fascinating portrayal of a woman far ahead of her time–whose dangerous and dramatic path to the throne shapes her future greatness.