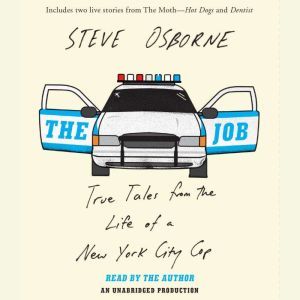 List: $20.00

| Sale: $14.40
The Job


True Tales from the Life of a New York City Cop

Format: Digital Audiobook Download
---
Synopsis
"How ya doin?"

With these four syllables, delivered in an unmistakably authentic New York accent, Steve Osborne has riveted thousands of people through the legendary storytelling outfit The Moth (and over a million times on their website) with his hilarious, profane, and touching tales from his twenty years served as an NYPD street cop. Steve Osborne is the real deal, people, the tough streetwise New York cop of your dreams, one with a big big heart. Kojak? NYPD Blue? Law & Order? Fuggedaboutem! The Job blows them out of the water with this unputdownable book.

Steve Osborne has seen a thing or two in his twenty years in the NYPD—some harmless things, some definitely not. In "Stakeout," Steve and his partner mistake a Manhattan dentist for an armed robbery suspect and reduce the man down to a puddle of snot and tears when questioning him. In "Mug Shot," the mother of a suspected criminal makes a strange request and provides a sobering reminder of the humanity at stake in his profession. And in "Home," the image of his family provides the adrenaline he needs to fight for his life when assaulted by two armed and violent crackheads. From his days as a rookie cop to the time spent patrolling in the Anti-Crime Unit—and his visceral, harrowing recollections of working during 9/11—Steve Osborne's stories capture both the absurdity of police work and the bravery of those who do it. His stories will speak to those nostalgic for the New York City of the 1980s and '90s, a bygone era of when the city was a crazier, more dangerous (and possibly more interesting) place.

Includes two live stories from The Moth—Hot Dogs and Dentist

Stories from The Moth courtesy of The Moth.