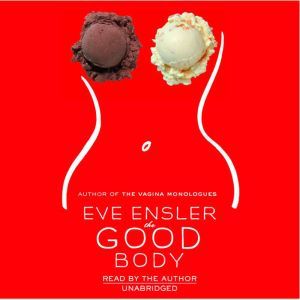 List: $9.98

| Sale: $7.19
Club: $4.99
The Good Body
Format: Digital Audiobook Download
---
Synopsis
Botox, bulimia, breast implants: Eve Ensler, author of the international sensation The Vagina Monologues, is back, this time to rock our view of what it means to have a "good body." "In the 1950s," Eve writes, girls were "pretty, perky. They had a blond Clairol wave in their hair. They wore girdles and waist-pinchers. . . . In recent years good girls join the army. They climb the corporate ladder. They go to the gym. . . . They wear painful pointy shoes. They don't eat too much. They . . . don't eat at all. They stay perfect. They stay thin. I could never be good."

The Good Body starts with Eve's tortured relationship with her own "post-forties" stomach and her skirmishes with everything from Ab Rollers to fad diets and fascistic trainers in an attempt get the "flabby badness" out. As Eve hungrily seeks self-acceptance, she is joined by the voices of women from L.A. to Kabul, whose obsessions are also laid bare: A young Latina candidly critiques her humiliating "spread," a stubborn layer of fat that she calls "a second pair of thighs." The wife of a plastic surgeon recounts being systematically reconstructed–inch by inch–by her "perfectionist" husband. An aging magazine executive, still haunted by her mother's long-ago criticism, describes her desperate pursuit of youth as she relentlessly does sit-ups.

Along the way, Eve also introduces us to women who have found a hard-won peace with their bodies: an African mother who celebrates each individual body as signs of nature's diversity; an Indian woman who transcends "treadmill mania" and delights in her plump cheeks and curves; and a veiled Afghani woman who is willing to risk imprisonment for a taste of ice cream. These are just a few of the inspiring stories woven through Eve's global journey from obsession to enlightenment. Ultimately, these monologues become a personal wake-up call from Eve to love the "good bodies" we inhabit.


From the Hardcover edition.