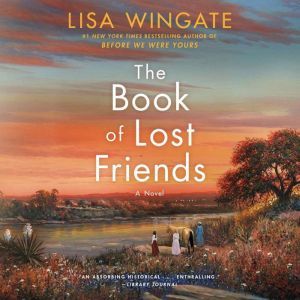 Synopsis
From the #1 New York Times bestselling author of Before We Were Yours comes a new historical novel: the dramatic story of three young women searching for family amid the destruction of the post–Civil War South, and of a modern-day teacher who learns of their story and its vital connection to her students' lives.

Bestselling author Lisa Wingate brings to life startling stories from actual "Lost Friends" advertisements that appeared in Southern newspapers after the Civil War, as newly freed slaves desperately searched for loved ones who had been sold away.

Louisiana, 1875: In the tumultuous era of Reconstruction, three young women set off as unwilling companions on a perilous quest: Hannie, a freed slave; Lavinia, the pampered heir to a now destitute plantation; and Juneau Jane, Lavinia's Creole half sister. Each carries private wounds and powerful secrets as they head for Texas, following roads rife with vigilantes and soldiers still fighting a war lost a decade before. For Lavinia and Juneau Jane, the journey is one of stolen inheritance and financial desperation, but for Hannie, torn from her mother and siblings before slavery's end, the pilgrimage west reignites an agonizing question: Could her long-lost family still be out there? Beyond the swamps lie the limitless frontiers of Texas and, improbably, hope.

Louisiana, 1987: For first-year teacher Benedetta Silva, a subsidized job at a poor rural school seems like the ticket to canceling her hefty student debt—until she lands in a tiny, out-of-step Mississippi River town. Augustine, Louisiana, is suspicious of new ideas and new people, and Benny can scarcely comprehend the lives of her poverty-stricken students. But amid the gnarled live oaks and run-down plantation homes lie the century-old history of three young women, a long-ago journey, and a hidden book that could change everything.
About the Author
We have all heard attributes given to a certain elementary teacher or teachers when an individual attains a certain high level of success. For author, Lisa Wingate, it was her very special first grade teacher in Northboro, Massachusetts, named Mrs. Krackhardt. She saw talent in a shy little girl who had just transferred into her class. She read Lisa's stories to the class, and Lisa was hooked on the attention of an audience.

Even though writing was always a career goal, Lisa Wingate had other priorities to also accomplish. She decided to wait to pursue her writing career in earnest until she had graduated college, gotten married, held a position as a journalist and technical writer, and had children. She had wanted girls, but got two boys instead, and was immediately in love with each one.

One day when the first Wingate baby was small, Lisa's grandmother came for an extended stay visit. During that visit, her grandmother was sitting with the baby, when she began to tell Lisa the story of her life. They had interrupted the planting of flower beds to go inside to quiet the baby. It was that conversation that inspired Wingate to write the story, "Time for Tending Roses", which turned into her first mainstream novel, Tending Roses.

Today, Tending Roses, was the first of several books inspired by life and written during stolen moments of a busy mom, wife, and writer. She has said.......who knew all of that would come from a quiet afternoon with grandma and an unfinished flower bed?

Even though Tending Roses is her sentimental favorite, Lisa has treasured every book because they always begin with an inspiration from life, and she never knows where that inspiration will lead her in story.

The best thing an aspiring author can hear from a reader of their work is.......I wonder what happens next?
AudiobooksNow review by daria white on 2020-04-06 21:11:48
I have to admit that it took me a little while to get into this novel, but it was well worth the investment of my time! The blending of historical fact with fiction is Lisa's strong suit. Creating strong, memorable characters and story lines is her gift. I am consistently amazed how Lisa Wingate is able to create such fascinating stories based upon little-known historical events, create totally believable life-like, sympathetic characters then, as their stories unfold, make you feel as though you are experiencing the events of their lives right alongside them. At the end of Lisa's novels, I am always saddened that I'll be losing touch with what have become beloved friends. Just as her previous New York Times best-selling novel, Before We Were Yours, brought to light a tragic period in our history involving an adoption scandal in Tennessee during the early part of the 20th Century, The Book of Lost Friends was sparked by the discovery of a project to preserve the records of freed slaves desperately seeking family members after the Civil War via letters (advertisements) placed in a magazine called the Southwest Christian Advocate which was circulated throughout the South. The ads were posted on bulletin boards and read at the pulpits of African-American churches in the aftermath of the Civil War. Freed slaves wrote what little they knew of their splintered families in the hopes that someone would help them reconnect with their lost loved ones. Some of these advertisements are included in the novel. The heartwarming stories woven around this theme are written with such compassion, authenticity, love and sincerity! In 1875, Hannie Gossett is a six-year-old slave child who witnesses her family being sold off by an unscrupulous family member of her plantation owner who thought he was sending them to safety in Texas. As the family is torn apart and sold off, Hannie listens as her mother recites their names, the names of those who took them and where each family member was taken. It is the only record Hannie has of her family. Before leaving her, Hannie is given a gift by her mother that will help her to identify other family members, should she be able to locate them at some future date. A series of events brings together Hannie, who, as a now freed slave is share-cropping on the plantation where she was raised hoping to one day own the land, Lavinia, the spoiled pampered daughter of Hannie's former owner, and Lavinia's creole half-sister, Juneau Jane, as they take on a quest that will affect each of their lives. Their journey is full of misadventure, danger and a series of events which bonds them together in unexpected ways. Along the way, they discover the Lost Friends advertisements. It is a heartrending and emotional story of three young women on an incredible journey. Bennie Silva is a new teacher working off her student loan debt by teaching in an underprivileged school located in Louisiana in 1987. Unable to motivate her students is a struggle when all that is expected of them is that they just show up at school on a semi-regular basis. Performance is not expected, nor encouraged. Bennie is determined to help her students become excited about learning. She finds a way to involve them in a project that captures their interest, though there are some in the town who feel threatened by the history it brings to light and work against her, making every effort to stop her. This is the type of story that deserves to be discovered by a new generation of readers as well as longtime lovers of historical fiction. It is captivating and intelligently written. As is not unusual with Lisa's novels, it teaches, dispenses wisdom, captures your heart and makes you want to strive to be a better person. Listen, the road seems to admonish. Listen. I have stories.
{"id":"3826791","ean":"9780593213261","abr":"Unabridged","title":"The Book of Lost Friends: A Novel","subtitle":"A Novel","author":"Lisa Wingate","rating_average":"4.45","narrator":"Sophie Amoss","ubr_id":"3826791","abr_id":"0","ubr_price":"25.00","abr_price":"0.00","ubr_memprice":"16.25","abr_memprice":"0.00","ubr_narrator":"Sophie Amoss","abr_narrator":"","ubr_length":"Unabridged: 15 hr 6 min","abr_length":"Abridged: "}