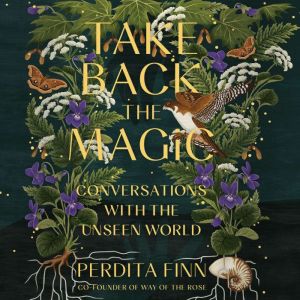 List: $24.99

| Sale: $17.50
Take Back the Magic


Conversations with the Unseen World

Format: Digital Audiobook Download
---
Synopsis
Renowned spiritual teacher and co-founder of The Way of the Rose Perdita Finn teaches the art and healing power of connecting with the dead, as she guides readers through the magical process of conversing with the unseen world.

What if you could live in a world where the guidance of those who were gone was available, right at your very fingertips? It's possible, if we are open to it. Anyone can reclaim the forgotten guidance of the dead, and anyone can return to the realm of magic and miracles. In Take Back the Magic: Conversations with the Unseen World, author, spiritual teacher, and co-founder of The Way of the Rose Perdita Finn reveals that life is beginningless, love is endless, and those who have passed don't truly go anywhere when they die. Weaving together memoir, history, and a non-denominational spirituality based in ecology, Finn invites readers to live the experience that the stories of our lives are much older, bigger, and more merciful than we have been led to believe.

Take Back the Magic takes the reader on a journey of healing, possibility, and love, as the story of how Finn healed her relationship with her bitter, patriarchal father long after his death unfolds over the course of thirteen moving chapters. Along the way, readers will learn how they, too, can reconnect with the generous guidance of the soul's long story through deep time, recovering their lost relationships with their ancestors and the Earth itself. Throughout, Finn shares guidance, tips, and practical advice that will aid readers in forging their own relationships with those who have passed, as she invites every reader to reconnect with their own inner knowing and to call forth magic from the most ancient parts of humanity. 

An inspiring invitation to healing in this life, and to experience that we are never alone, Take Back the Magic shows that the whole world is simply souls reaching out to and finding each other—and no one is ever truly lost to us, if we allow ourselves to begin our own conversations with the unseen world.