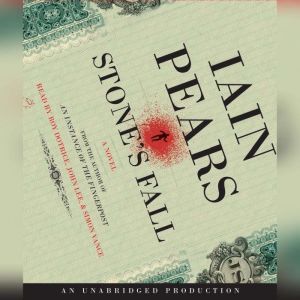 List: $32.50

| Sale: $23.40
Club: $16.25
Stone's Fall
Format: Digital Audiobook Download
---
Synopsis
A return to the form that launched Iain Pears onto bestseller lists around the world: a vast historical mystery, marvelous in its ambition and ingenius in its complexity.

In his most dazzling novel since the groundbreaking New York Times bestseller An Instance of the Fingerpost, Iain Pears tells the story of John Stone, financier and arms dealer, a man so wealthy that in the years before World War One he was able to manipulate markets, industries, and indeed entire countries and continents.

A panoramic novel with a riveting mystery at its heart, Stone's Fall is a quest to discover how and why John Stone dies, falling out of a window at his London home.

Chronologically, it moves backwards–from London in 1909 to Paris in 1890, and finally to Venice in 1867– and in the process the quest to uncover the truth plays out against the backdrop of the evolution of high-stakes international finance, Europe's first great age of espionage, and the start of the twentieth century's arms race.

Like Fingerpost, Stone's Fall is an intricately plotted and richly satisfying puzzle–an erudite work of history and fiction that feels utterly true and oddly timely–and marks the triumphant return of one of the world's great storytellers.


From the Hardcover edition.