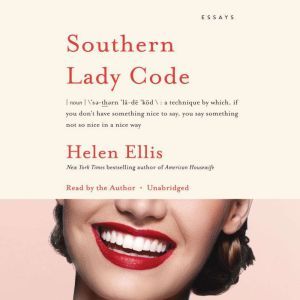 List: $15.00

| Sale: $10.80
Southern Lady Code


Essays

Format: Digital Audiobook Download
---
Synopsis
"I loved it." —Ann Patchett 

The bestselling author of American Housewife ("Dark, deadpan and truly inventive." --The New York Times Book Review) is back with a fiercely funny collection of essays on marriage and manners, thank-you notes and three-ways, ghosts, gunshots, gynecology, and the Calgon-scented, onion-dipped, monogrammed art of living as a Southern Lady.

Helen Ellis has a mantra: "If you don't have something nice to say, say something not-so-nice in a nice way." Say "weathered" instead of "she looks like a cake left out in the rain." Say "early-developed" instead of "brace face and B cups." And for the love of Coke Salad, always say "Sorry you saw something that offended you" instead of "Get that stick out of your butt, Miss Prissy Pants." In these twenty-three raucous essays Ellis transforms herself into a dominatrix Donna Reed to save her marriage, inadvertently steals a $795 Burberry trench coat, witnesses a man fake his own death at a party, avoids a neck lift, and finds a black-tie gown that gives her the confidence of a drag queen. While she may have left her home in Alabama, married a New Yorker, forgotten how to drive, and abandoned the puffy headbands of her youth, Helen Ellis is clinging to her Southern accent like mayonnaise to white bread, and offering readers a hilarious, completely singular view on womanhood for both sides of the Mason-Dixon.

Several pieces in this collection originally appeared in the following publications: "Making a Marriage Magically Tidy" in the New York Times column "Modern Love" (June 2, 2017); "How to Stay Happily Married" in Paper Darts (Winter 2017); "Tonight We're Gonna Party Like It's 1979" in Eating Well (November/December 2017); "How to Be the Best Guest" as "An American's Guide to Being the Best Guest" in Financial Times (March 2016); and "When to Write a Thank- You Note" in Garden & Gun (February/March 2018).