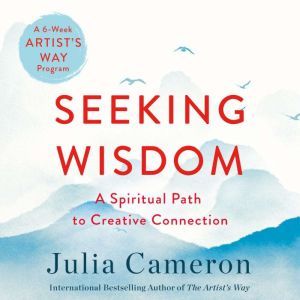 List: $19.99

| Sale: $13.99
Seeking Wisdom


A Spiritual Path to Creative Connection (A Six-Week Artist's Way Program)

Format: Digital Audiobook Download
---
Synopsis
Julia Cameron shares a new source of creative guidance in this 6 Week Artist's Way Program

Author Julia Cameron changed the way the world thinks about creativity when she first published The Artist's Way: A Spiritual Path to Higher Creativity. Over five million copies later, Cameron now focuses her attention on prayer, which she believes is a key facet of the creative life. In Seeking Wisdom, a 6 Week Artist's Way Program, listeners will learn to look beyond themselves.

Cameron shares a routine of prayer that goes further than traditional religious practices, welcoming readers regardless of their beliefs and backgrounds. As you journey through each week of the program you'll explore prayers of petition, gratitude, creativity, and more. Along the way, the three beloved tools of The Artist's Way—Morning Pages, Artist Dates, and Walks—provide a proven, sturdy framework for growth and development. Cameron also introduces a brand new fourth tool, Writing Out Guidance, which she hopes will become a powerful practice for countless creatives.

Seeking Wisdom is an exciting invitation to step into a new dimension of creative practice.

A Macmillan Audio production from St. Martin's Essentials.