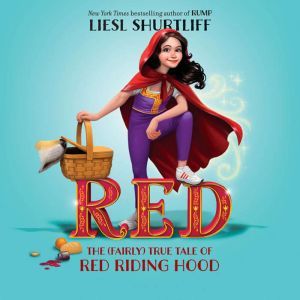 List: $20.00

| Sale: $14.40
Red: The True Story of Red Riding Hood
Format: Digital Audiobook Download
---
Synopsis
Beauty and the Beast fans: satisfy your fairy tale cravings with the New York Times bestseller RED, a spellbinding adventure that features a brave heroine, plenty of pixies, a beast like no other, and a beauty too!

Red is not afraid of the big bad wolf. She's not afraid of anything . . . except magic.
But when Red's granny falls ill, it seems that only magic can save her, and fearless Red is forced to confront her one weakness.

With the help of a blond, porridge-sampling nuisance called Goldie, Red goes on a quest to cure Granny. Her journey takes her through dwarves' caverns to a haunted well and a beast's castle. All the while, Red and Goldie are followed by a wolf and a huntsman—two mortal enemies who seek the girls' help to defeat each other. And one of them just might have the magical solution Red is looking for. . . .

Liesl Shurtliff weaves a spellbinding tale, shining the spotlight on a beloved character from her award-winning debut, Rump. 

"Red is the most wonder-filled fairy tale of them all!" -- Chris Grabenstein, New York Times Bestselling author of Escape from Mr. Lemoncello's Library.

"Moving and filled with hope . . . the charm of Shurtliff's retelling is how she imbues the storybook tropes with vibrant humanity."—Shelf Awareness, starred review

And don't miss Jack: The True Story of Jack and the Beanstalk, "a delightful story of family, perseverance and courage" (Booklist).