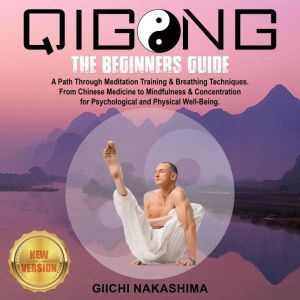 List: $14.95

| Sale: $10.47
Club: $7.47
QIGONG
The Beginners Guide. A Path Through Meditation Training & Breathing Techniques. From Chinese Medicine to Mindfulness & Concentration for Psychological and Physical Well-Being.
Format: Digital Audiobook Download
---
Synopsis
Explore the ancient art of QiGong and learn to tap into the universe's energy.Do you want to get started with the wonderful world of QiGong, but you're not sure where to begin? Looking for a profound and insightful exploration of how you can practice energy healing, improve your wellbeing, and connect with your higher self? Then this is the audiobook for you.We live in a fast-paced, busy world, and many of us are stressed out and anxious as a result. If you suffer from anxiety but have found little relief from modern western treatments, or if you are looking for complementary treatment, the ancient practice of QiGong—which can be understood as the cultivation of internal energy—may offer you relief.QiGong is rooted in Chinese philosophy and medicine, and it utilizes breathing, movement, and awareness exercises to promote healing and aid in meditation.Techniques for overcoming anxiety problems utilizing traditional Chinese energy-focusing exercises. By following these simple step-by-step exercises, listeners will learn to transform feelings of anxiety into resilience and inner strength. Here's what you'll discover inside this comprehensive guide:A History of QiGong and Its PurposeExploring The Branches and Structure of QiGongUnderstanding Yin, Yang, and The ElementsHow QiGong Can Help You Live A Life of Well-being And HappinessThe Essential Phases of Qi DevelopmentTips For Using QiGong For Boosting Your HealthHighly Effective Breathing Techniques and PosturesMuch More!With several insights on breathing, meditation, and energy healing, this audiobook is your ticket to the world of spiritual, emotional, and physical wellbeing. Discover the secrets of QiGong, and begin your journey to a healthier and better life today!Buy now to begin your journey with QiGong!