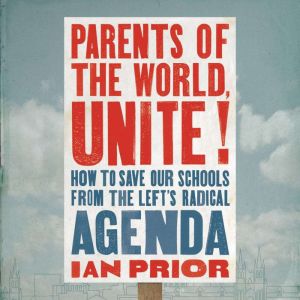 List: $18.99

| Sale: $13.29
Parents of the World, Unite!


How to Save Our Schools from the Left's Radical Agenda

Format: Digital Audiobook Download
---
Synopsis
This essential playbook reveals the winning strategies for successfully fighting a radical woke agenda in your kids' schools. Ian Prior is one of the most articulate and successful parent-activists in the United States. Armed with 12 inspiring battle-tested rules and revealing stories about sparring with self-righteous Woke neighbors (the "Chardonnay Antifa"), Ian shares secrets about what fellow parents can do in their own school districts to stop the Left's dark vision from taking root.
 
Get ready to laugh. This is not a boring education book. With real world lessons and funny anecdotes readers can connect with, Ian explains how families can win the battle to stop divisive and dangerous concepts rooted in critical race theory and other dangerous left-wing ideologies from spreading to their schools. He convincingly makes the case that the Left envisions a public education system in America where children are no longer the responsibility of their parents but rather mere wards of the state.
 
You'll be shocked and amused by the outrageous stories in Ian's suburban county that unexpectedly became ground zero for the parents' rights movement. This sign-of-the times book helpfully explains the confusing and infuriating cultural moment we find ourselves in.

Parents of the World, Unite! is an indispensable book for American families who believe they should be able to raise their children without government interference in their moral, religious, and ethical choices -- and are ready to join a revolution of parents.