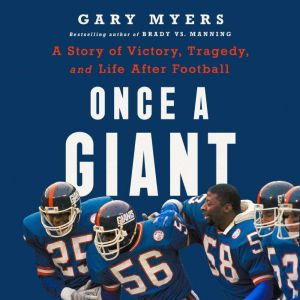 List: $27.99

| Sale: $19.59
Once a Giant


A Story of Victory, Tragedy, and Life After Football

Format: Digital Audiobook Download

Includes: Bonus Material

---
Synopsis
The inside story of the Super Bowl champion 1986 Giants, the extraordinary friendships that resulted--and stunning revelations about the hardships they faced, based on new interviews with Bill Parcells, Phil Simms, Mark Bavaro, and Bill Belichick.

The 1986 New York Giants are legendary. A championship team coached by Bill Parcells and his wunderkind assistant Bill Belichick, featuring future Hall of Famers and All-Pros like Phil Simms, Lawrence Taylor, Mark Bavaro, and Harry Carson. They were dominant on the field and formed a unique and lasting bond off of it. More than thirty years later, it's the friendships that have proved more important--a matter of life and death.

In Once a Giant, bestselling football writer Gary Myers tells the story of that team and what became of it. Gridiron glory eventually faded; chronic pain, addiction, and in some cases crimes have followed. Many football players face these harsh realities, but the Giants have confronted and survived them together.

With unprecedented access, Myers dives into such issues as Mark Bavaro's battle with injuries, the breakup and reconciliation of Parcells and Belichick, and Lawrence Taylor's struggles with sobriety. He creates a never-before-seen portrait of the team's run to the title, and their even more challenging fight to live after it ended.