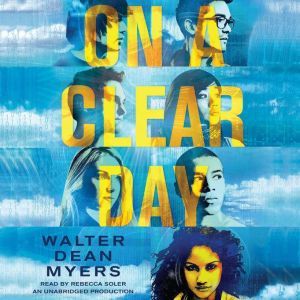 List: $18.00

| Sale: $12.96
Club: $9.00
On a Clear Day
Format: Digital Audiobook Download
---
Synopsis
"Visionary. This book should be in every reader's hands." –JACQUELINE WOODSON, National Book Award-winning author of Brown Girl Dreaming

Young heroes decide that they are not too young or too powerless to change their world in this gripping, futuristic young adult novel by the New York Times bestselling author of the Printz Award–winning Monster.
 
It is 2035. Teens, armed only with their ideals, must wage war on the power elite.
 
Dahlia is a Low Gater: a sheep in a storm, struggling to survive completely on her own. The Gaters live in closed safe communities, protected from the Sturmers, mercenary thugs. And the C-8, a consortium of giant companies, control global access to finance, media, food, water, and energy resources—and they are only getting bigger and even more cutthroat. Dahlia, a computer whiz, joins forces with an ex-rocker, an ex-con, a chess prodigy, an ex-athlete, and a soldier wannabe. Their goal: to sabotage the C-8. But how will Sayeed, warlord and terrorist, fit into the equation?
 
Walter Dean Myers was a prolific author for young people, writing over one hundred books and receiving every major award in the field of children's literature during his lifetime. He was the National Ambassador for Young People's Literature during 2012 and 2013.


Praise for ON A CLEAR DAY
"Walter Dean Myers was such a visionary. On a Clear Day is at once historical and futuristic, thoughtful and thought-provoking. It should be in every reader's hands. It's a book for anyone who has ever given thought to our own future and the futures of those coming behind us. Stunning." –JACQUELINE WOODSON, National Book Award-winning author of Brown Girl Dreaming

*"A clarion call from a beloved, much-missed master." –Kirkus Reviews, Starred 

"In his last book, Myers has turned his thoughtful attention to matters of pressing global importance and issued an implicit challenge to his teen readers to become involved and make a difference. It makes for a stirring valedictory." –Booklist 

"Published posthumously, this is an angry story, demonstrating again Myers's acute social conscience." –Horn Book 

"Worth serious YA consideration." –The Bulletin of the Center for Children's Books


From the Hardcover edition.