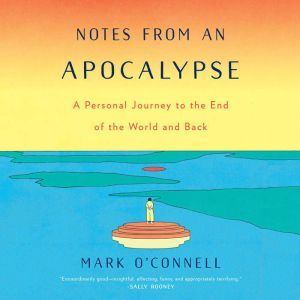 List: $17.50

| Sale: $12.60
Notes from an Apocalypse


A Personal Journey to the End of the World and Back

Format: Digital Audiobook Download
---
Synopsis
"Insightful, affecting, funny....Notes from an Apocalypse could hardly be more incisive, or more timely." --Sally Rooney

By the author of the award-winning To Be a Machine, an absorbing, deeply felt book about our anxious present tense--and coming to grips with the future

We're alive in a time of worst-case scenarios: The weather has gone uncanny. Our old postwar alliances are crumbling. Everywhere you look there's an omen, a joke whose punchline is the end of the world. How is a person supposed to live in the shadow of such a grim future? What does it mean to have children--nothing if not an act of hope? What might it be like to live through the worst? And what on Earth is anybody doing about it?

Dublin-based writer Mark O'Connell is consumed by these questions--and, as the father of two young children himself, he finds them increasingly urgent. In Notes from an Apocalypse, he crosses the globe in pursuit of answers. He tours survival bunkers in South Dakota. He ventures to New Zealand, a favored retreat of billionaires banking on civilization's collapse. He engages with would-be Mars colonists, preppers, right-wing conspiracists. And he bears witness to those places, like Chernobyl, that the future has already visited--real-life portraits of the end of the world as we know it. In doing so, he comes to a resolution, while offering readers a unique window into our contemporary imagination.

Both investigative and deeply personal, Notes from an Apocalypse is an affecting, humorous, and surprisingly hopeful meditation on our present moment. With insight, humanity, and wit, O'Connell leaves you to wonder: What if the end of the world isn't the end of the world?