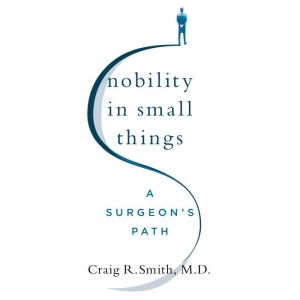 List: $26.99

| Sale: $18.89
Nobility in Small Things


A Surgeon's Path

Format: Digital Audiobook Download
---
Synopsis
His routine was the same every day for 38 years: up at 4:15, make a turkey-on-rye, drive the deserted Henry Hudson Parkway to the hospital, check the schedule, scrub, cut, reattach, save a life or two, repeat. Until March 2020, when the Covid-19 pandemic shut hospital surgeries all over the world.

Craig Smith, M.D., Chairman of the Department of Surgery at Columbia Presbyterian Hospital, went from performing heart surgeries on patients both everyday and celebrated (he performed the quadruple bypass that saved Bill Clinton's life in 2004) to sitting in his tomb-quiet office looking out at George Washington Bridge. And he started to write. His Covid emails were balm to the staffers and later became celebrated for Dr. Smith's care and thought in his assessment of the work of the hospital–of any hospital.

Nobility in Small Things not only takes us into the mind and soul of a surgeon with the ability to "play God" but into the heart of a man who chose a lifesaving career. The book introduces us to patients and peers, and moves from family-building and heartbreak at home, to the tragic suicide of two fellow M.D.s. Dr. Smith also writes vulnerably about his debilitating social anxiety and how he overcame it.

Dr. Smith shows us not just the making of a surgeon in Nobility in Small Things, but the maintenance of one: the deep feeling and moral philosophy that anchor the daily miracles that define his profession.

A Macmillan Audio production from St. Martin's Press.