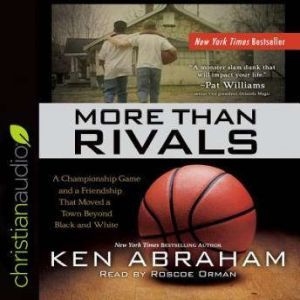 List: $14.98

| Sale: $10.49
Club: $7.49
More Than Rivals


A Championship Game and a Friendship That Moved a Town Beyond Black and White

Format: Digital Audiobook Download
---
Synopsis
An Inspiring True Story Set in the Midst of the Civil Rights Era

By 1970, racial tension was at a breaking point in the southern town of Gallatin, Tennessee. Desegregation had emotions running high. The town was a powder keg ready to erupt. But it was also on the verge of something incredible.

Eddie Sherlin and Bill Ligon were boys growing up on opposite sides of the tracks who shared a passion for basketball. They knew the barriers that divided them--some physical landmarks and some hidden in the heart--but those barriers melted away when the boys were on the court. After years of playing wherever they could find a hoop, Eddie and Bill entered the rigors of their respective high school teams. And at the end of the 1970 season, all-white Gallatin High and all-black Union High faced each other in a once-in-a-lifetime championship game. What happened that night would challenge Eddie and Bill--and transform their town.

Readers will love this fast-paced true story of courage, determination, character, and forgiveness.