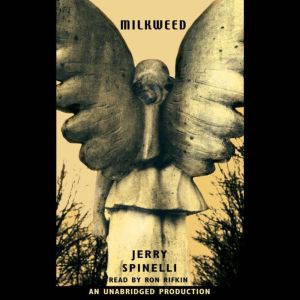 List: $12.95

| Sale: $9.32
Milkweed
Format: Digital Audiobook Download
---
Synopsis
A stunning novel of the Holocaust from Newbery Medalist, Jerry Spinelli

He's a boy called Jew. Gypsy. Stopthief. Filthy son of Abraham.

He's a boy who lives in the streets of Warsaw. He's a boy who steals food for himself, and the other orphans. He's a boy who believes in bread, and mothers, and angels.

He's a boy who wants to be a Nazi, with tall, shiny jackboots of his own-until the day that suddenly makes him change his mind.

And when the trains come to empty the Jews from the ghetto of the damned, he's a boy who realizes it's safest of all to be nobody.

Newbery Medalist Jerry Spinelli takes us to one of the most devastating settings imaginable-Nazi-occupied Warsaw during World War II-and tells a tale of heartbreak, hope, and survival through the bright eyes of a young Holocaust orphan.


From the Hardcover edition.