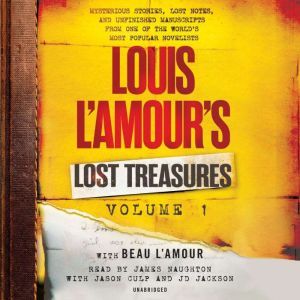 List: $25.00

| Sale: $18.00
Louis L'Amour's Lost Treasures: Volume 1


Mysterious Stories, Lost Notes, and Unfinished Manuscripts from One of the World's Most Popular Novelists

Format: Digital Audiobook Download
---
Synopsis
The first of its kind, a unique volume of twenty-one unpublished gems from one of the twentieth century's most popular and prolific writers
 
Using his father's handwritten notes, journal entries, and correspondences, Beau L'Amour uncovers how and why many never-before-seen manuscripts were written—and speculates about the ways they might have ended.

These selections celebrate L'Amour's vision and virtuosity, including the first seven chapters of a powerful novel about the Trail of Tears, a chilling Western horror story, and a tale of the American Revolution featuring a character related to L'Amour's well-known Sackett family. At the other end of the spectrum are classic adventures, such as The Golden Tapestry, set in 1960s Istanbul, as well as several uniquely different attempts at what would have been the most profoundly intimate of all of L'Amour's novels, a saga of reincarnation that stretches from a time before time, to the period of Alexander the Great, and on to Warlord-Era China.

This audiobook reveals the L'Amour you have never known, his personal struggles as a writer, and the contest between mortality and a literary legacy too big for one life to contain.

"Lost treasures indeed . . . a behind-the scenes look at the unpublished work and unrealized aspirations of an iconic writer of Westerns."—Kirkus Reviews
 
"A valuable addition to [L'Amour's] literary legacy."—Booklist

Louis L'Amour's Lost Treasures is a project created to release some of the author's more unconventional manuscripts from the family archives.
 
In Louis L'Amour's Lost Treasures: Volumes 1, Beau L'Amour takes the reader on a guided tour through many of the finished and unfinished short stories, novels, and treatments that his father was never able to publish during his lifetime. L'Amour's never-before-seen first novel, No Traveller Returns, faithfully completed for this program, is a voyage into danger and violence on the high seas. These exciting publications will be followed by Louis L'Amour's Lost Treasures: Volume 2.
 
Additionally, many beloved classics will be rereleased with an exclusive Lost Treasures postscript featuring previously unpublished material, including outlines, plot notes, and alternate drafts. These postscripts tell the story behind the stories that millions of readers have come to know and cherish.