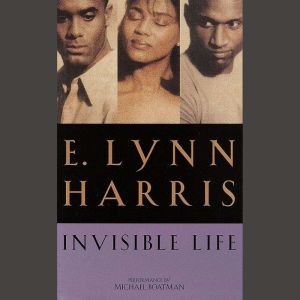 List: $20.00

| Sale: $14.40
Club: $10.00
Invisible Life
Format: Digital Audiobook Download
---
Synopsis
Available at last, E. Lynn Harris's beloved first novel in a hardcover edition.

Just a few years ago, E. Lynn Harris was selling his self-published novel Invisible Life out of the back of his car. Today he is a bestselling publishing sensation, with more than one million copies of his four novels sold. To celebrate Harris's incredible success, and offer his fans the opportunity to own, at last, a hardcover version of Invisible Life, Doubleday is proud to announce a special edition of the book so many have cherished.

Invisible Life is the story of a young man's coming of age. Law school, girlfriends, and career choices were all part of Raymond Tyler's life, but there were other, more terrifying issues for him to confront. Being black was tough enough, but Raymond was becoming more and more conscious of  sexual feelings that he knew weren't "right." He was completely committed to Sela, his longtime girlfriend, but his attraction to Kelvin, whom he had met during his last year in law school, had become more than just a friendship. No matter how much he tried to suppress them, his feelings were deeply sexual.

Fleeing to New York to escape both Sela and Kelvin, Raymond finds himself more confused than ever before. New relationships--both male and female--give him enormous pleasure but keep him from finding the inner peace and lasting love he so desperately desires. The horrible illness and death of a friend force Raymond, at last, to face the truth.

Invisible Life has been hailed as "one of the most thought-provoking books--since James Baldwin's Another Country" (Richmond Voice), and Harris's "stories have become the toast of bookstores, reading groups, men, women, and gay and straight people" (Atlanta Journal-Constitution).

Proceeds from the sale of this special fifth anniversary edition will go to the E. Lynn Harris Foundation, a charitable organization that gives young people across the country the opportunity to study writing with established authors, and also aids emerging artists.