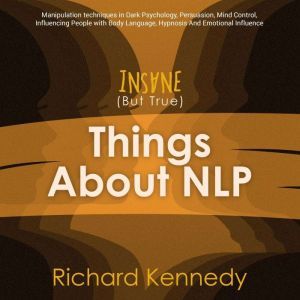 List: $19.95

| Sale: $13.97
Insane (But True) Things About NLP : Manipulation techniques in Dark Psychology, Persuasion, Mind Control, Influencing People with Body Language, Hypnosis And Emotional Influence.
Format: Digital Audiobook Download
---
Synopsis
Use NLP to Become a Master of Your Emotions and Learn How to Effectively Communicate!Do you want to have control over your mental states?IF YES, READ ON! THIS BOOK WILL TEACH YOU ALL ABOUT NLP AND HOW TO USE IT FOR SUCCESS IN LIFE!NLP stands for neuro-linguistic programming. This is a psychological technique that helps us understand how we communicate with ourselves and the world. By using NLP to learn and relearn some of our habits, we move one step closer to achieving our goals. This book will teach you: Core principles of NLPHow to identify what you want to changeNLP techniques to improve self-confidenceWhat are patterns and how to change themEven if NLP sounds a bit complicated, it can be as simple as learning to say "thank you" instead of "sorry". Both achieve your purpose, but "thank you" generates positivity. Learn NLP to lead a better life!Ready to become an NLP master? Scroll up, Click on 'Buy Now', and Get Your Copy!