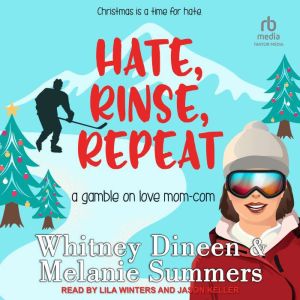 List: $19.99

| Sale: $13.99
Hate. Rinse. Repeat.
Format: Digital Audiobook Download
---
Synopsis
Maisy Moore is not looking forward to the holiday season. As owner of the only hair salon in Gamble, Alaska, she'll be run off her feet helping her clients get dolled up for parties. Parties she'll never be invited to. But that's not the worst of it. As a single mom, she knows she still won't be able to give her seven-year-old son, Jack, the kind of magical Christmas his classmates get. If only she could give him what he really wants—to know who his dad is. The last thing Maisy needs is for NHL star Chase Evans to come waltzing back into town like he's God's gift to women. But that's exactly what Chase does. After a taking a crosscheck from behind, Chase's season is over. Instead of scoring goals, he's recovering from shoulder surgery, and according to his mother, there's no better place to recover than home. The last thing Chase expects is to find Maisy Moore still single. He decides to see if maybe they could rekindle their brief romance. But when he tries to talk to her, he discovers Maisy's feelings of lust have turned to loathing. Will Maisy manage to keep the identity of her son a secret? Will there be a holiday miracle that will reunite two hard-headed lovers?