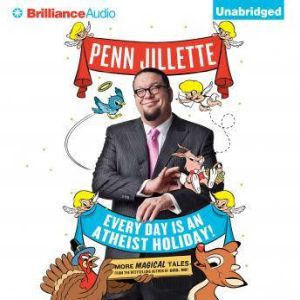 List: $35.99

| Sale: $25.20
Club: $17.99
Every Day is an Atheist Holiday!
More Magical Tales from the Author of God, No!
Format: Digital Audiobook Download
---
Synopsis
Let's be honest—nobody has more fun than atheists. Don't believe it? Well, consider this: For nonbelievers, every day you're alive is a day to celebrate! And no one celebrates life to the fullest like Penn Jillette—the larger, louder half of legendary magic duo Penn & Teller—whose spectacularly witty and sharply observant essays in Every Day Is an Atheist Holiday! will entertain zealots and skeptics alike. Whether he's contemplating the possibility of life after death, deconstructing popular Christmas carols, or just calling bullsh*t on Donald Trump's apprentice training, Jillette does not fail to shock and delight his fans. And as ever, underneath these rollicking rants lie a deeply personal philosophy and a generous spirit, which find joy and meaning in family, and peace in the simple beauty of the everyday. Every Day Is an Atheist Holiday! is a hysterical affirmation of life's magic from one of the most distinctly perceptive and provocative humorists writing today.