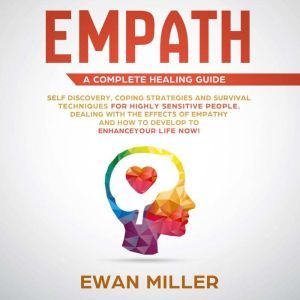 List: $15.99

| Sale: $11.20
Empath – A Complete Healing Guide: Self-Discovery, Coping Strategies, Survival Techniques for Highly Sensitive People. Dealing with the Effects of Empathy and how to develop to Enhance Your Life NOW!
Format: Digital Audiobook Download
---
Synopsis
Do you continuously feel the urge to help others whilst feeling tired and undervalued? then keep reading…… Are you labelled as being over sensitive? Do you understand others including their hidden motives? Are you overwhelmed and intimidated when attending public functions? Do you suffer from anxiety? Are toxic people often attracted to you? Answering yes to any of these may signal that you are an Empath. "Empath – A Complete Healing Guide ", will show you skills on how to use this powerful yet challenging gift. In this audiobook you will discover:• The best coping strategies for your personal and working life.• The one method all empaths should know for when attending public events. • A simple healing trick you can do to stop you feeling drained.• Why being an empath is a gift.• The biggest mistake an empath can make.• And much, much more. The proven methods and pieces of knowledge are so easy to follow. Even if you never realized that you were an Empath before, you will still be able to use these methods to enhance your empathic abilities in your personal and working life.So, if you want to improve your life and stop feeling emotionally drained, then click "download" and "start listening"