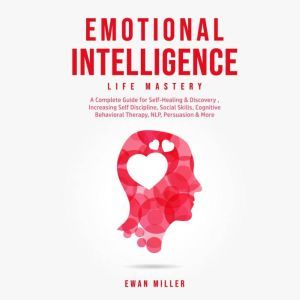 List: $15.99

| Sale: $11.20
Emotional Intelligence - Life Mastery: Practical Self-Development Guide for Success in Business and Your Personal Life-Improve Your Social Skills, NLP, EQ, Relationship Building, CBT & Self Discipline.
Format: Digital Audiobook Download
---
Synopsis
Do you want to learn to control your emotions when faced with emotionally charged situations? If so then keep reading...Are you getting into lots of arguments? Do you struggle to understand how people feel? Do you blame others for your mistakes? Are you finding that your lack of emotional control is stopping you from performing to your best? The Solution is Emotional Intelligence, a powerful tool that you can use at work and in your personal life, to develop better listening and communication skills in order to create a healthier environment."Emotional Intelligence - Life Mastery " will show you how to manage your emotions giving you the ability to succeed at work, at home and to build friendships. Inside of this audiobook, you will learn:• A simple trick you can do to develop better communication.• The best ways to tackle listening issues. • The one method that will help you to build on your emotional intelligence skills. • Why improving emotional intelligence is crucial to success.• Learn why some people will fail to improve their emotional intelligence. - And much, much more.The proven methods and pieces of knowledge are so easy to follow. Even if you've never heard of emotional intelligence before, you will still be able to achieve high levels of success. If you want to be a great communicator, who is able to get the best from the people around you, then click the "Buy Now" button to start listening today!