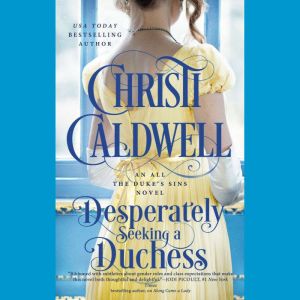 List: $20.00

| Sale: $14.40
Desperately Seeking a Duchess
Format: Digital Audiobook Download
---
Synopsis
What happens when an impoverished duke with a reputation for being a rogue collides with a strong-willed heiress who wants to explore the world? An unlikely friendship…and unexpected passion.

Cailin Audley doesn't fit in with Polite Society. A life spent among the working class taught her to value her independence in a way no newfound fortune or glittering ballroom could ever erase. When a major misstep sees the new heiress whisked away to the English countryside, Cailin soon realizes the vexing lengths her family will go to see her settled.  But having risked her heart once before, Cailin has no interest in the men of the ton—especially not the frustratingly charming Duke of St. James.
 
Courtland Balfour, the Duke of St. James, devoted brother and notorious rogue, despises what he must become—a fortune hunter. But with the ducal coffers drained by his late, spendthrift of a father, Courtland knows his duty lies at the altar and he will do anything to ensure a future for his siblings. Just his luck that the one lady who could make this new fate bearable, who enflames him like no other, is the one woman who wants nothing to do with him or his title.
 
But when an act of desperation inadvertently lands he and Cailin at the heart of another scandal, Courtland knows better than to waste his chance. Surely he can convince Cailin to love him?